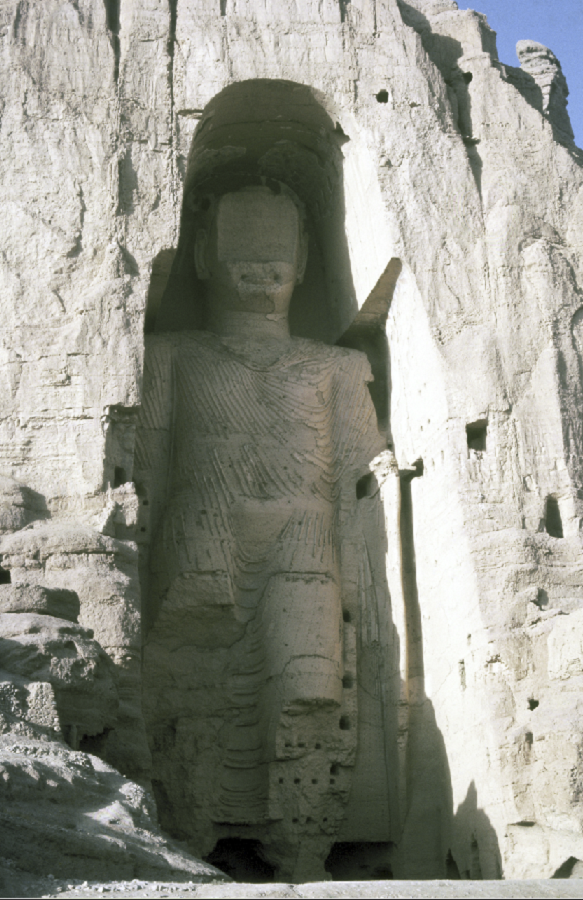 Bamian, Afghanistan 1973. I spent some time in the Bamian Valley north of Kabul 50 years ago. What you see is the largest of the Bamian Buddhas carved into to sandstone cliffs in 600 AD by a Central Asian people who revered Buddha and called themselves Ebodai. It stands 180 feet tall. The Bamian Valley was a Buddhist pilgrimage site, with thousands of monks in monasteries and temples from roughly 100 AD until 800 AD, the time of the Moslem conquest of Afghanistan.
It was left untouched until the Moslem Emperor of India, Aurangzeb (son of Shah Jehan, builder of the Taj Mahal), blew off the statue's legs with artillery in 1700. Then in 1890, the Moslem Afghan King of Afghanistan, Abdur Rahman Khan, ordered the Buddha's face above the nose sliced off. The same Islamic practice of literal de-facing conducted upon ancient Egyptian statues including the Sphinx.
It was in 2001 that the Afghan Taliban blew up the entire statue you see here along with others as anti-Islamic "idols." I consider myself immensely fortunate to witness this extraordinary work of historic art while it still existed.
(Glimpses of Our Breathtaking World #260 photo ©Jack Wheeler)