FLASHBACK FRIDAY – SLEEPING IN AN IGLOO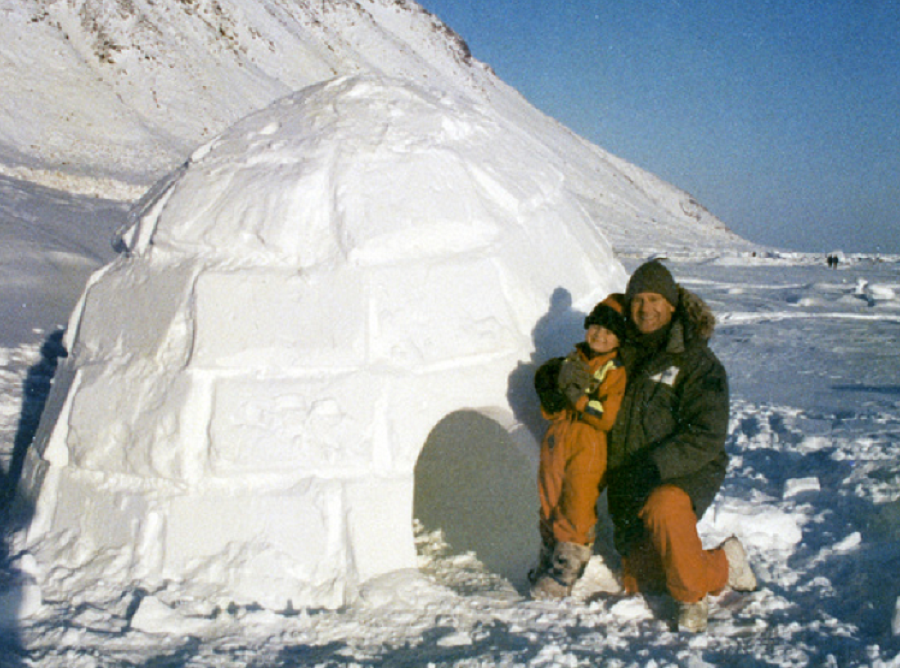 April 1990. When our oldest son Brandon was six years old, I took him with me to the North Pole. It was my 14th expedition there, and as always, we stopped to visit friends at Canada's northernmost community, the Inuit hunting village of Grise Fiord on Ellesmere Island. Brandon thought it would be cool to sleep in an igloo, which the Inuit do only when they're hunting seals or walrus far out on the ice.
So the villagers happily complied, showing him how they built one, carving out blocks of wind-blown snow, shaping and placing them in an inward-sloped spiral with one block on top, and packing snow as mortar between the blocks. When it was bedtime – still daylight with 24-hour sunshine by April – they lined the inside with caribou skins, which shed like crazy with hairs everywhere but sure are warm. Snuggled into our arctic down sleeping bags, we slept like stones.
It was an experience both of us will never forget. Never pass up an opportunity to have an adventure with your kids they'll always remember. (Glimpses of Our Breathtaking World #50 Photo ©Jack Wheeler)