FLASHBACK FRIDAY: A REAL RUSSIAN CHURCH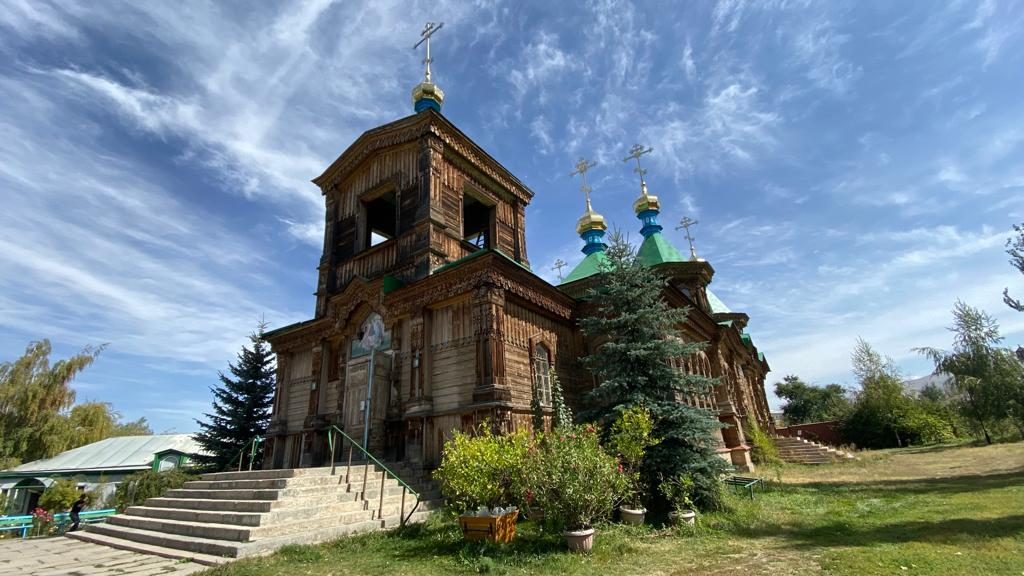 This is the wooden Russian Orthodox Church in Karakol, Kyrgyzstan. I was here years ago and now again today.  It was built in the 1890s when Karakol was a garrison town in the furthermost reaches of the Russian Imperial Empire with China just on the other side of Tien Shan Mountains.  In the atheist/communist Soviet Union it was used variously as a school, gymnasium, and warehouse, anything but a church.
After Kyrgyzstan gained its independence with the collapse of the Soviet Union, it was lovingly restored by the people of Karakol.  All the various ethnicities comprising Karakol are welcome here – Christian Russians and Christian Kyrgyz, Uighur Moslem refugees escaping Chicom China, ethnic Han Chinese Moslems called Dungans escaping for the same reason, Buddhist and pagan Kazakhs.  The interior is lavishly decorated with Christian art and paintings of Christian saints – no Islamic or Buddhist or any other religious art, just Christian.  Yet all are welcome to pray in this haven of refuge and peace in their own way.
This is a Russian Church very distinct from those controlled by Moscow run by the Kremlin as a propaganda arm of the KGB/FSB.  It is a real Russian Christian Church instead.  Come here to feel to the spiritual serenity for yourself. (Glimpses of Our Breathtaking World #221 photo ©Jack Wheeler)