NAPOLEON'S DEATH BED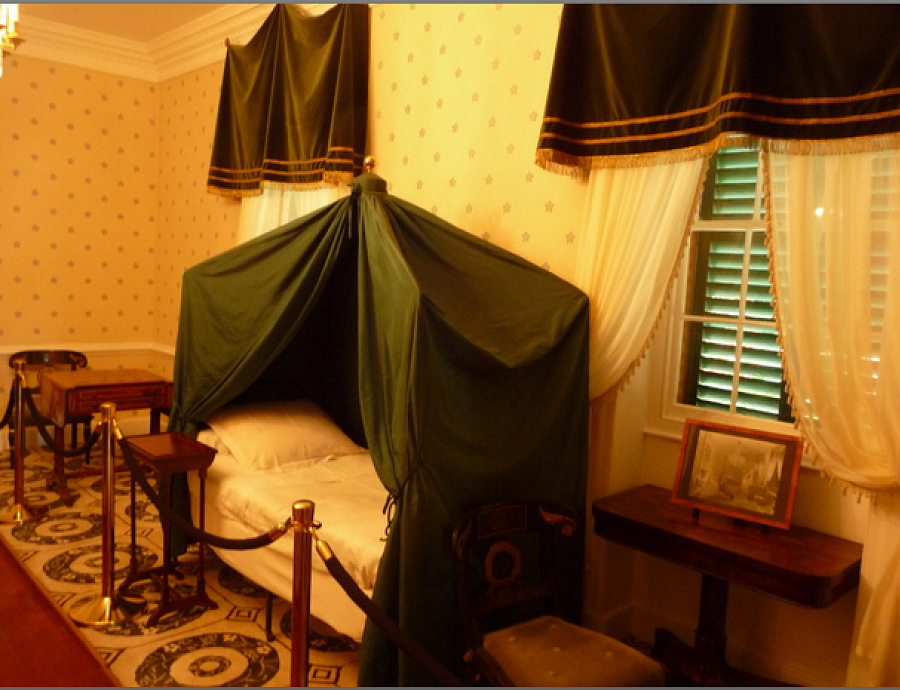 Longwood House, Saint Helena Island, Atlantic Ocean.  On May 5, 1821, Napolean died in this bed. He was surrounded by some 15 of his companions with their wives and children, doctors, servants, a priest, and a British Officer.  There has been much speculation of the cause, but arsenic – either poisoning or in the wallpaper – has now been ruled out, and the original diagnosis of stomach cancer seems now confirmed. He was 51.
After his escape from exile on Elba, an island a few miles off the northwest coast of Italy, Napoleon suffered his final defeat at Waterloo on June 18, 1815 by the British-led army of the Duke of Wellington and the Prussian army of Field Marshal von Blücher.  The Brits were taking no chances, exiling him to their outpost of 10-square mile Saint Helena, one of the remotest islands on earth, 1,200 miles west of Africa and 2,500 miles east of Brazil in the South Atlantic.
You can visit the hilltop Longwood House where he spent his last years, immaculately maintained with his elegant furnishings, surrounded by carefully attended flower gardens where he strolled – all under the care of the French Foreign Ministry.  Nearby in a landscaped forest glen, the Valley of Willows, is his original burial place – far more idyllic and peaceful than his mammoth sarcophagus of ostentatious pomposity at Les Invalides in Paris. Come here yourself and I think you'll agree. (Glimpses of Our Breathtaking World #275 photo ©Jack Wheeler)