HALF-FULL REPORT 10/20/23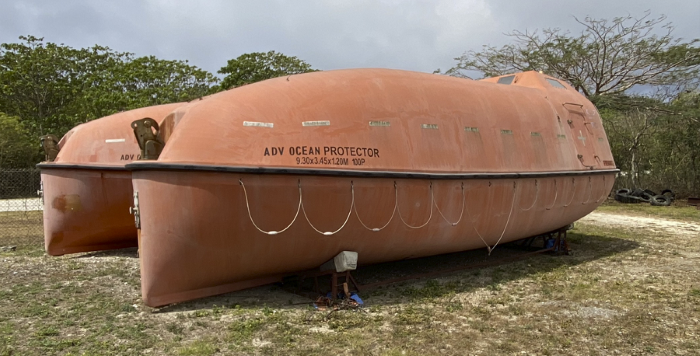 Christmas Island, Indian Ocean, Australia.  Now what might these be.  "Ocean Protector" they are labeled.  Protector from what? Settle in your most comfortable chair and get ready for an amazingly cool story from this tiny remote island that has 100% relevance to what's happening to our country right now.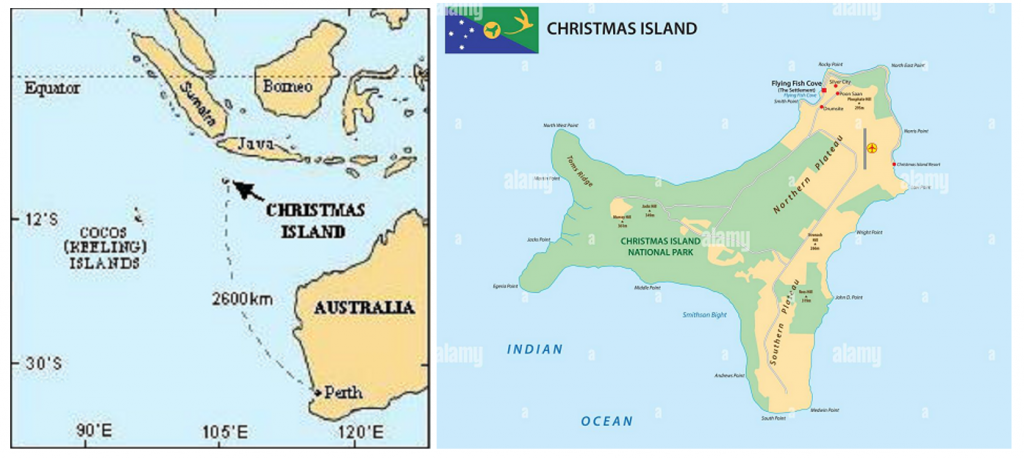 Discovered uninhabited by British explorers in the 1600s (first sighted on Christmas Day, it was administered by the British Colonial Office until it was transferred to Australia in 1958.  The only way to get to Christmas Island– legally – unless you have your own boat, is to fly from Perth, which is how I got here.  As you can see, the island is a long way away from Australia, at least 1,000 miles.
Much closer is Indonesia's main island of Java, little over 200 miles close.  Which is why, until ten years ago, Christmas was plagued by a flood of illegal aliens from all over Asia arriving by boat from Java to claim "asylum" as their excuse to live in and sponge off the Australia welfare state.  Sound familiar?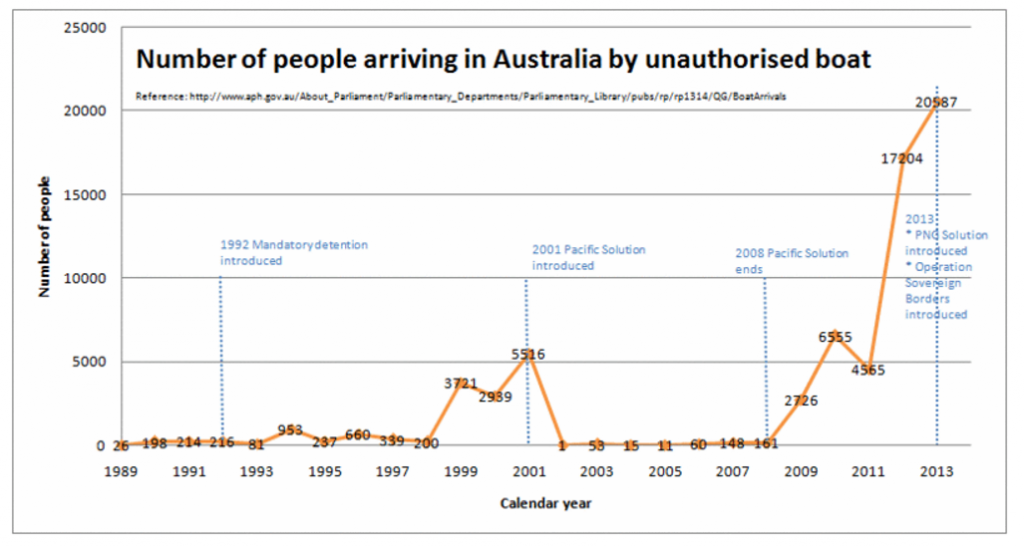 As you can see, the flood became a tsunami from 2009 to 2013, under the Biden-like open borders policies of Australia's worst prime ministers, super lefties, Kevin Rudd and Julia Gillard.  In response, Australians elected their best prime minister of modern times, Tony Abbott – who immediately instituted his Operation Sovereign Borders with its Zero Chance policy still in effect today.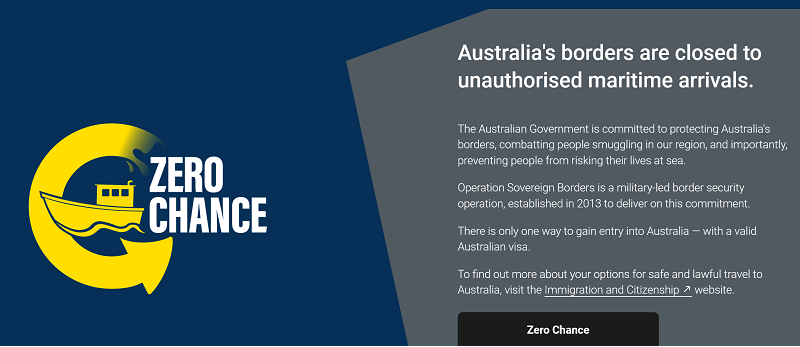 It was Abbott who had the enclosed boats you see pictured above, called "Pods."  He had Australian Navy patrol the waters off Christmas, and whenever a boat of illegal "asylum seekers" was found in Australian waters, they were transferred into a pod with adequate supplies of water and food deposited back into Indonesia waters for the Indonesia Navy to deal with.  Period. Zero Chance.
The Aussie Navy still patrols, but an asylum boat hasn't been seen in years now. The Pods above are in storage. The huge Christmas Island Immigration Detention Center, built at enormous cost to house over 2,000 illegals, is empty now.  The wife of an island friend of mine works there – all she and the staff do is maintenance, nothing else to do.
So here's my proposal.  DJT and/or RDS invite Tony Abbott to be their advisor on how to have an Operation Sovereign Border-Zero Chance policy implemented for America.  We sure could learn from the Aussies, couldn't we?
************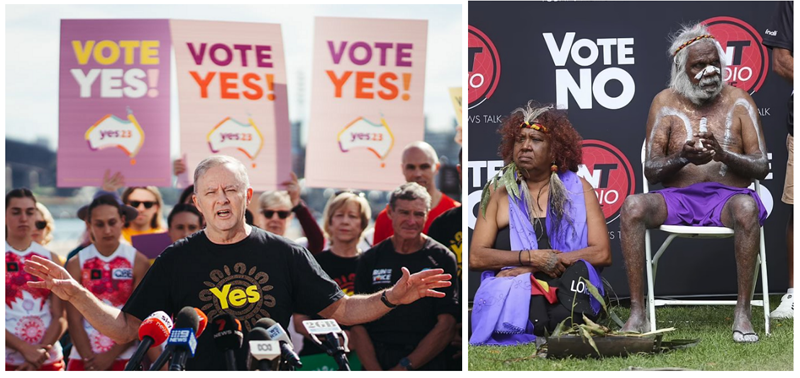 But wait, there's more from Oz!
For months now, everywhere you went in Australia there were Vote Yes! signs, every time you turned on the telly there was some talking head telling you to do so.  The 2023 Australian Indigenous Voice referendum was "To alter the Constitution to recognize the First Peoples of Australia by establishing an Aboriginal and Torres Strait Islander Voice. Do you approve this proposed alteration?" Yes or No?
This was the brainfart of Oz's new Woke Leftie PM, Anthony Albanese (pictured on left above). What was this Voice, who picks the members, what powers will it have, why does this require changing the Constitution?  To any and all questions, Albanese and his woke ilk had only one response:  If you vote No you're a racist, end of discussion.
To this, Australian Senator Jacinta Nampijinpa Price, speaking for her people, pronounced:
"It would be far more dignifying if we were recognized and respected as individuals in our own right, who are not simply defined by our racial heritage, but by the content of our character."
The vote was last Saturday (10/14) and went down in flames, 61% No, 39% Yes.  The anger and anguish of the Aussie Woke Celebrity Left is abyssal.  Simply Schadenfreudelicious.
************
But that's not all that happened way down under last Saturday (10/14): New Zealand Abandons Labor Party And Shifts To The Right As Country Votes For Wholesale Change. It was a "bloodbath" for the woke government of the execrable Jacinda Ardern.
As the Wall Street Journal describes it (10/16): Victories for Common Sense in New Zealand and Australia.
Could common sense be returning on the other side of the Pacific in South America?  On Monday (10/16): Another Blow For The Left: Ecuador Elects A Conservative New President.  Daniel Noboa is the 35 year-old son of a banana baron: "The voters didn't care about those things, though; they just wanted to get rid of the socialism."
Which brings us to Argentina.  Axios is blathering: Far-Right Candidate Leads Polls Ahead Of Argentina's Presidential Election, which is overmorrow, this Sunday (10/22).
Yeah, right. "Far-Right" doesn't begin to describe Javier Milei. The link is to his Wikipedia page which you've got to read, it will blow you away.  He's extremely bright and educated, steeped in Austrian laissez-faire economics, articulate as Demosthenes and wildly flamboyant.  He's fond of wielding an actual chainsaw to his rallies, because he wants to take a chainsaw to Argentina's monstrously corrupt and bloated political elite: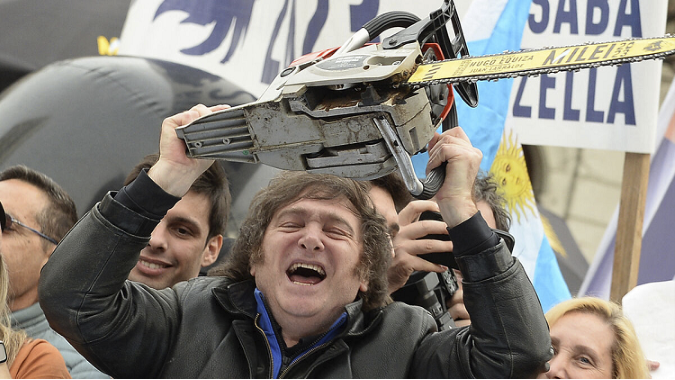 Argentines are flocking to him in droves, hailing him as "The Trump of the Pampas."  How can you not love this guy?  Good luck on Sunday, Javier!!
************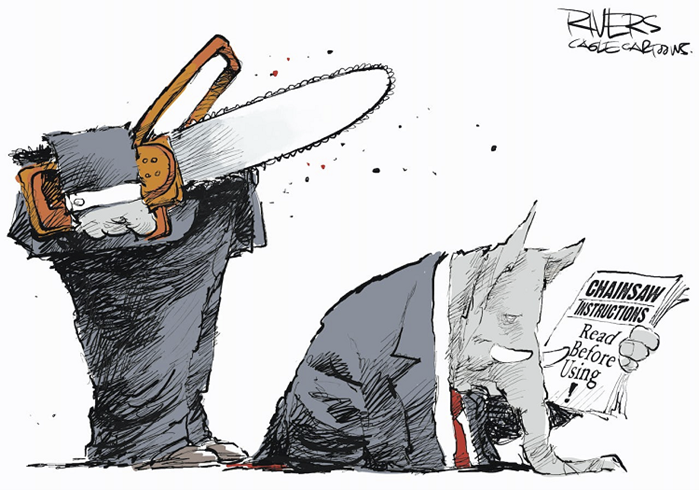 Speaking of chainsaws…. Unfortunately, no such luck for us in America.  It's not just that we have to wait until January 2025 to get Dems out of the White House – it's that as of right now the Republican clown show can't elect a Speaker.
Kim Strassel in today's WSJ (10/20): "Top blame for this embarrassment still rests with Florida Rep. Matt Gaetz and his unmerry band of exhibitionists, who gutted Mr. McCarthy's speakership and left their party in a slow bleed… (now) the fault has spread to a different band of malcontents," a tiny minority of total jerks who preen as "mercenary kings and queens."
And to add insult to this self-inflicted farcical injury, last night (10/19), Biden pulled a rabbit out of his hat:
https://www.youtube.com/watch?v=NmP7UvSxFPs
Here are excerpts from the transcript: Remarks by President Biden on the Unites States' Response to Hamas's Terrorist Attacks Against Israel and Russia's Ongoing Brutal War Against Ukraine:
"The terrorist group Hamas unleashed pure, unadulterated evil in the world… the assault on Israel echoes nearly 20 months of war, tragedy, and brutality inflicted on the people of Ukraine — since Putin launched his all-out invasion.

We've have not forgotten the mass graves, the bodies found bearing signs of torture, rape used as a weapon by the Russians, and thousands and thousands of Ukrainian children forcibly taken into Russia, stolen from their parents.  It's sick.

Hamas and Putin represent different threats, but they share this in common: They both want to completely annihilate a neighboring democracy — completely annihilate it.

So let me share with you why making sure Israel and Ukraine succeed is vital for America's national security.  You know, history has taught us that when terrorists don't pay a price for their terror, when dictators don't pay a price for their aggression, they cause more chaos and death and more destruction.  They keep going, and the cost and the threats to America and to the world keep rising.

So, if we don't stop Putin's appetite for power and control in Ukraine, he won't limit himself just to Ukraine.  Putin has already threated to "remind" — quote, "remind" Poland that their western land was a gift from Russia.

One of his top advisors, a former president of Russia, has called Estonia, Latvia, and Lithuania Russia's "Baltic provinces."  These are all NATO Allies.

For 75 years, NATO has kept peace in Europe and has been the cornerstone of American security.  And if Putin attacks a NATO Ally, we will defend every inch of NATO which the treaty requires and calls for.

And if we walk away and let Putin erase Ukraine's independence, would-be aggressors around the world would be emboldened to try the same.  The risk of conflict and chaos could spread in other parts of the world — especially in the Middle East. For Iran is supporting Russia in Ukraine, and it's supporting Hamas and other terrorist groups in the region. 

 

American leadership is what holds the world together.  American alliances are what keep us, America, safe.  American values are what make us a partner that other nations want to work with.  To put all that at risk if we walk away from Ukraine, if we turn our backs on Israel, it's just not worth it.

That's why, tomorrow, I'm going to send to Congress an urgent budget request to fund America's national security needs, to support our critical partners, including Israel and Ukraine."
Brit Hume is right.  How Biden can be so morally right on this and be so immorally wrong on just about everything else is as much a mystery as how so many conservative patriots can be morally right on just about everything yet so immorally wrong in rooting for Putin to annihilate Ukraine.  There is no moral difference between Hamas and Putin – both are genocidal Nazis.
************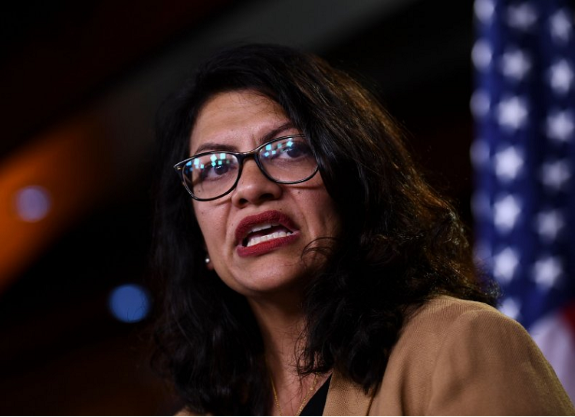 Speaking of Nazis… will the House ever get the moral moxie to expel this one from its midst?  Rashida Tlaib Dodges Reporter Repeatedly Asking If She Condemns Hamas Slaughtering Infants.  She continues to blame Israel for this: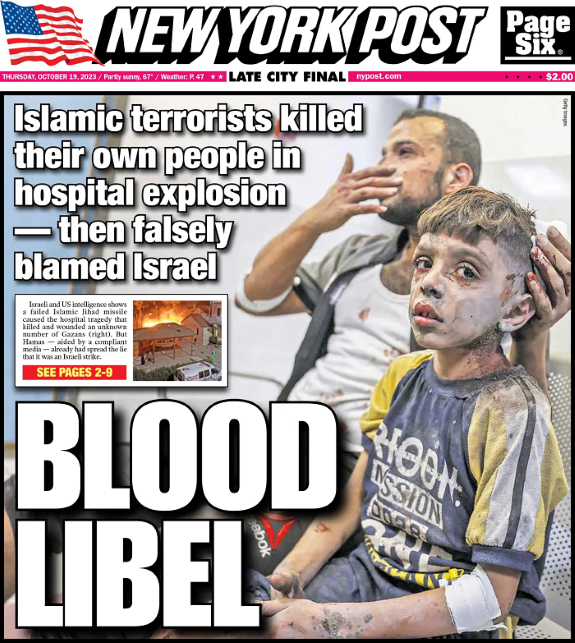 While Tlaib is both coyote ugly and evil, another member of her Squad has gone wacko, as reported by the Bee:  Buffalo Hat-Wearing Ilhan Omar Leads Pro-Hamas Protesters Storming Capitol.  Then again, she's always been that way.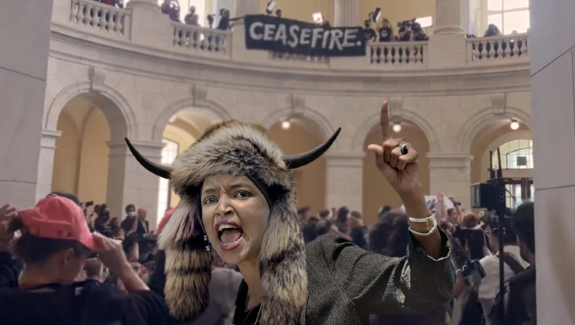 ************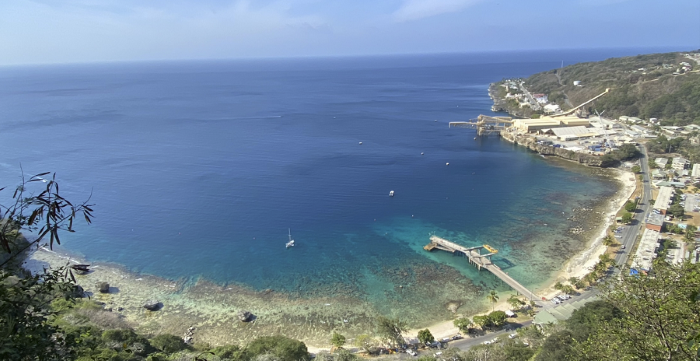 Folks, I'm signing off from Flying Fish Cove on Christmas Island.  Calm and peaceful here, with scuba diving like being in the world's biggest aquarium.  A long way from war and tragedy and political fiascos elsewhere.
Even here, though, be careful.  Hiding under a coral ledge, I spotted this gorgeous Clearfin Lionfish.  Have to keep your distance though – those spines can paralyze you with poison: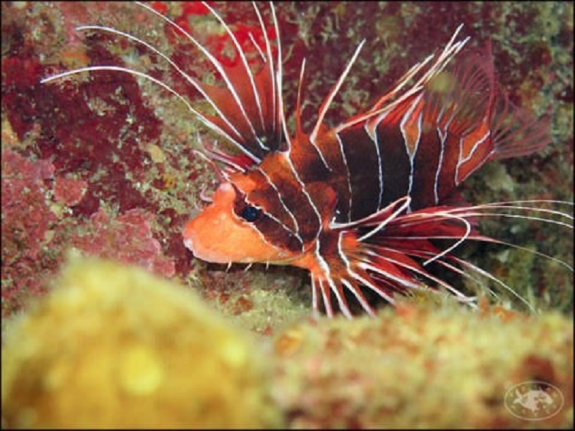 It's after Midnight now, meaning after Noon in Washington, with the third vote for Speaker being an even more asinine farce than the first two.  When, if ever, will the House GOP grow up?  Meanwhile, good luck to Javier Milei tomorrow, good luck to the IDF ridding Gaza of Hamas.
I'll be handing over the HFR helm to the capable hands of Mike Ryan for the next two Fridays as I'll be running our Himalaya Helicopter Expedition.  Hard to believe with that photo above that I'll soon be at Mount Everest: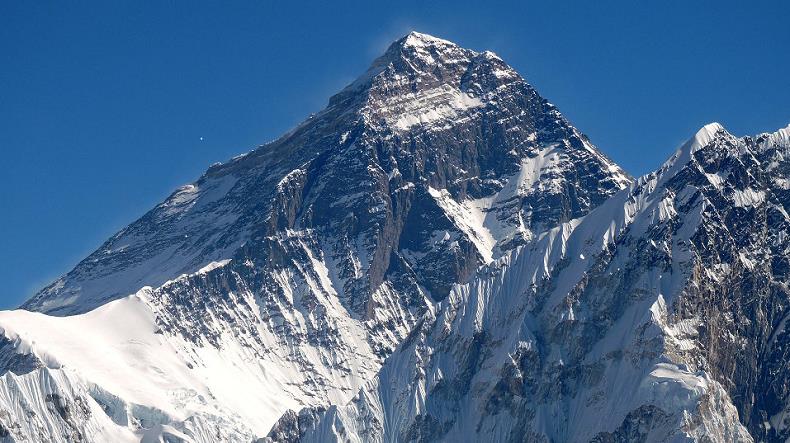 For all its travail, always remember that we live in the most wondrous world.  Make the most of it!