FLASHBACK FRIDAY — "THIS IS YOUR LIFE"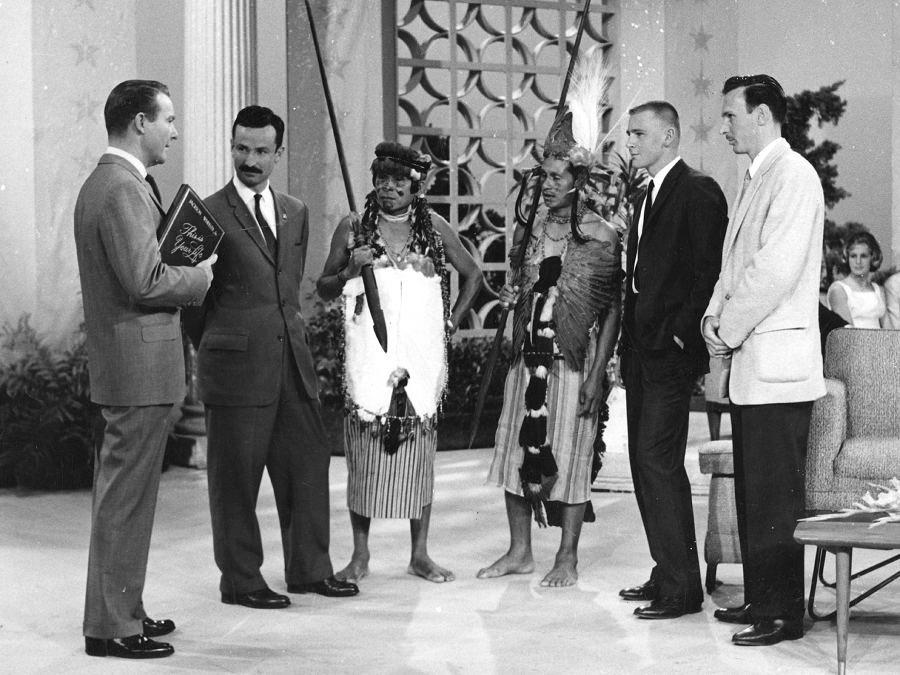 June 15, 1961. It was quite a shock to me when I was the surprise guest on Ralph Edwards' famous television show. My "Life" at age 17? How could that be? The show's producers were intrigued by a recent Life Magazine story of my swimming the Hellespont as did Leander in Greek mythology (December 12, 1960 issue) that also had photos of me on top of the Matterhorn and with a Jivaro headhunter.
Without my knowing, they flew my guide for the Hellespont swim, Huseyin Uluarslan, from Turkey to LA, the same for my guide on the Matterhorn, Alfons Franzen, from Switzerland, to be on the show. Most amazing of all, they got the Chief Prefect of Police for Ecuador, Jaime Duran, to pick up Tangamashi (the Jivaro who adopted me) and his brother Naita by helicopter from their Amazon encampment, then fly them from Quito to LA.
I was dumbfounded. So there we are in the photo, left to right: Ralph Edwards, Jaime Duran, Tangamashi, Naita, a very young yours truly, and Ralph Ferguson, son of medical researcher Dr. Wilburn Ferguson who translated for Tangamashi. Quite a moment for a 17 year-old boy – and no doubt for Tangamashi! (Glimpses of Our Breathtaking World #10)