THE GRAND PRISMATIC SPRING OF YELLOWSTONE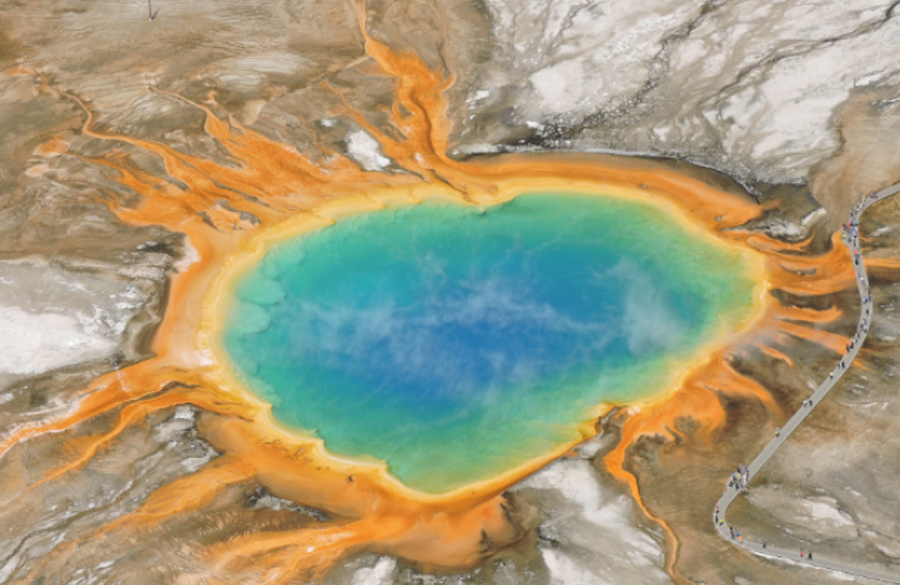 There are places in our world so staggeringly beautiful to have to see them to believe they exist.  Yet those people walking along the foot bridge can't see what you're looking at.  That has to be in the air, hovering from high above in a helicopter.  We live in a world of such beauty it really does take your breath away. And best of all, the beauty of the Grand Prismatic Spring  of Yellowstone is right here in America.
On Monday (6/07), we got a Glimpse of Horseshoe Bend in northern Arizona and reflected on how much more there was to experience in just that region of the American West.  And that's just one region, one part of one of the most spectacular places in all Creation.
Here we are at Yellowstone in Wyoming, a wonderland by itself.  Just to the south are the Grand Tetons. To the west is the Sawtooth Range and the Middle Fork of the Salmon River – one of the best whitewater runs on the planet.  It goes endlessly on and on.  America the Beautiful is not just a song – it's glorious reality. (Glimpses of Our Breathtaking World #135, photo ©Jack Wheeler)