NO ONE DESERVES THE NOBEL PEACE PRIZE MORE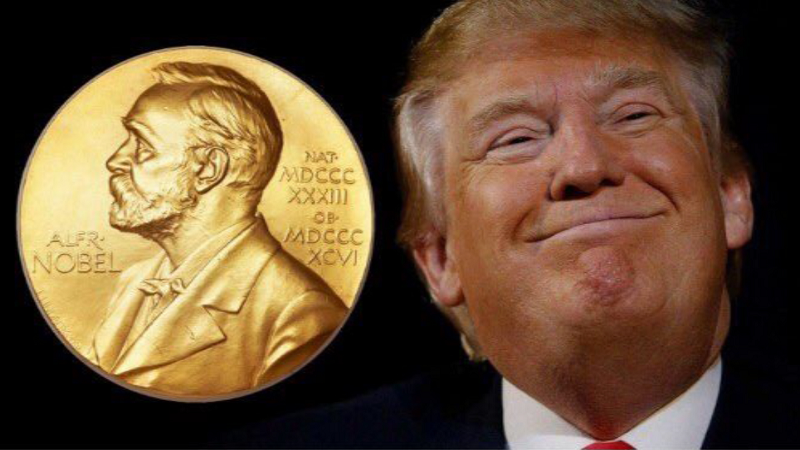 The United Arab Emirates will establish full diplomatic relations with Israel, President Trump announced last Thursday (8/13).
The peace deal was brokered by Jared Kushner, the president's son-in-law.
It is a "huge achievement," said Washington Post columnist David Ignatius.
A "key step for peace," said Dennis Ross, who tried (and failed) to negotiate Middle East peace treaties during the Obama administration.
Others called the peace agreement "historic," said it will bring "massive change" to the Middle East.
"Based on the immediate impact alone, you can even call (it) an earthquake," said New York Post columnist Michael Goodwin. "In an instant, regional fault lines are redrawn, and the door is thrown open for Israel to normalize its relations with other Arab states."
The most important step toward peace in the Middle East in 25 years was barely mentioned on CNN and MSNBC that night. Over the weekend, the MSM gave more coverage to Democrat concerns about disappearing mail boxes.
The Trump administration's foreign policy has been disastrous, Democrats assert.
"Trump and (Secretary of State Michael) Pompeo have made America a pathetic, disrespected shell of itself on the world stage," said Ben Rhodes, Deputy National Security Adviser in the Obama administration.
Trump's foreign policy critics are long on hyperbole, short on specific examples. For good reason. A cursory examination of the record indicates his has been, by far, the most successful foreign policy of any president since Ronald Reagan's winning the Cold War.
NORTH KOREA
In the winter of 2016-2017, serious people feared the bellicose regime – having built up its arsenal massively in the previous decade – might attack us with nuclear weapons.
Since then the Norks have shuttered their major nuclear weapons production facility, suspended tests of ballistic missiles, opened peace negotiations with South Korea.
All is not hunk dory. But President Trump's personal diplomacy brought about a profound relaxation of tension. He's succeeded where Presidents Clinton, G.W. Bush and Obama failed.
NATO
Democrats were aghast when Trump threatened to leave NATO if our allies didn't fulfill their commitments to fund the common defense. This was a gift to Putin, they said.
Tough love worked. Allies who for many years welshed on their promises to spend 2 percent of GDP on defense have since ponied up. NATO is stronger than ever, thanks to Trump, said NATO Secretary General Jens Stoltenberg.
ISIS
ISIS emerged from seemingly nowhere during Obama's second term. By the time he left office, ISIS was running amok, had become the world's most dangerous, most vicious Islamic terror group.
Less than two years after Donald John Trump took the oath of office, the ISIS mini-state in Syria and Iraq was utterly destroyed.
IRAN
President Obama sent the mullahs pallets of cash, which failed to change their behavior.
President Trump withdrew from the one-sided Joint Comprehensive Plan of Action (JCPOA), imposed crippling sanctions on the Iranian regime, and killed Hassam Soleimani, the world's foremost terrorist, who had the blood of hundreds of Americans on his hands.
USMCA
President Trump replaced the horrific North American Free Trade Agreement (NAFTA), which destroyed millions of manufacturing jobs, with the United States Mexico Canada agreement, which is projected to spur creation of 176,000 new jobs here.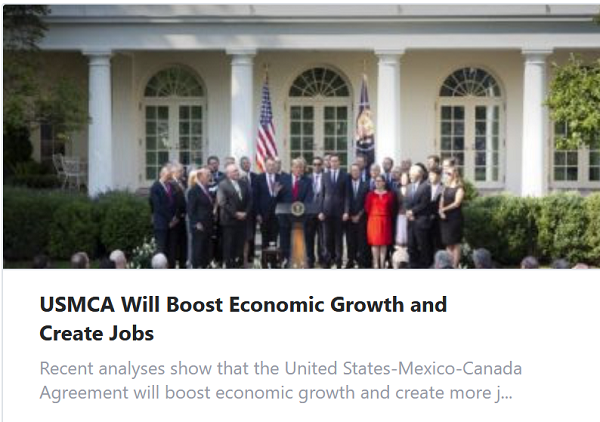 There've been other successes.
The president of Mexico agreed to send Mexican soldiers to the border to keep illegal immigrants from Central America from crossing into the United States.
After President Trump announced he will move some U.S. troops from Germany to Poland, the president of Poland said he will name the base at which they will be stationed "Fort Trump."  On Saturday (8/15), Secretary of State Pompeo was in Warsaw to ink the deal with the Polish government.
Others will make steps toward peace in the coming weeks, President Trump predicted at the news conference announcing the Israel-UAE agreement.
Bahrain, Oman and the Sudan have indicated they, too, may normalize relations with Israel. But peace deals between now and the election could go well beyond the Middle East.
I bet there will be an agreement between the U.S. and North Korea. It'll be more symbolic than substantive, because the heavy lifting already has been done. But it will remind voters of how tense things were before Trump.
And I bet there will be a peace treaty with the Taliban in Afghanistan. Within six months to a year, the Taliban almost certainly will violate its terms. But it will permit the president to bring our troops home, put an end to America's longest war.
Trump will be able to run for re-election as a peacemaker, who put an end to endless war. It is painfully obvious he, more than anyone else on the planet, deserves the Nobel Peace Prize.  Such a shame the Norwegians, who award the prize, are such Euroweenies.
---
Jack Kelly is a former Marine and Green Beret, and was the Deputy Assistant Secretary of the Air Force during the Reagan Administration.  Until his retirement in January 2017, he was the national security writer for the Pittsburgh Post-Gazette