HALF-FULL REPORT 10/23/20
This was unprompted, China Joe just volunteered it out of the blue.  This was not a talk to the Chamber of Commerce, the National Manufacturers Association, or WalMart execs to curry their obsession for cheap labor.
This was to the millions of American workers watching whom he had to know would feel he was threatening their jobs and livelihoods.  On purpose he told them in essence, "As president, I will make sure 20 million illegals will take your jobs."
There is only one reason he would do this: he was not speaking to Americans but to illegals, to encourage them to vote illegally, to give Dems carte blanche to conduct massive voter fraud.
He's made a bet – more illegals will get away with voter fraud than American workers will vote against him.  I think it's a bad bet but we'll know week after next, won't we?
Yesterday, we read what Victor Davis Hanson hoped for in the debate last night – and he got it big time.  The contrast was dramatic – POTUS was calm, polite, self-controlled and presidential.  China Joe lied about everything, obsessively, pathologically.
The most amazing demonstration of this was when POTUS asked about fracking, and Joe said, "I never said I oppose fracking."  Shocked, POTUS exclaimed "You said it on tape!" Instantly, Joe points at him and yells, "Show the tape, put it on your website!"
And here it is, up on Trump's twitter feed within hours after the debate:
https://www.youtube.com/watch?v=prFNd2EH6Vk
This is a mental sickness.  A pathological liar is someone who lies compulsively, who has lost the capacity to distinguish between truth and falsehood.
Biden is the epitome of a crooked politician, he has not one major accomplishment for his country in 47 years of being a Senator and Vice-President, is a child-groping pedophile, he turns 78 next month, is sinking rapidly into senility – and you absolutely cannot trust him to tell the truth because he doesn't know what that is.
Suffice it to say, POTUS mopped the floor with him last night.  Even Megyn Kelly saw it:

So did CNN viewers: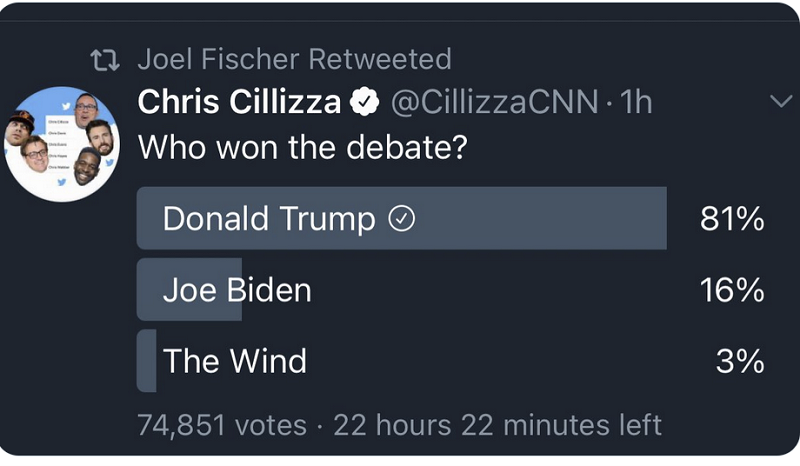 We have 11 days until Election Day.  A lot can, a lot will happen – but last night may be remembered as when POTUS left China Joe in his rear view mirror.
************
In less than 72 hours from your reading this (HFR posted Friday evening 10/23), Amy Coney Barrett will be confirmed by the Senate and be sworn-in Justice Barrett a short time later.  Her presence on the bench neuters Roberts.
All suspicions about his being bought off or blackmailed to vote anti-American were confirmed on Monday (10/19) when he sided with the three libs to Allow Pennsylvania Extended Voting with No Postmarks.
Yes, the Dems can count mail-in ballots for three days after Nov 3 even if postmarks are illegible.  This means they will know within hours after polls close at 8pm the margin of victory they need – then they just manufacture the number of ballots to overcome Trump's honest lead.
This afternoon (10/23) came this incredible headline: Pennsylvania Supreme Court Rules Counties Can't Reject Mail-In Ballots When Signatures Don't Match.  This is a clear violation of state election law (as was the counting extension) and will soon arrive at SCOTUS' doorstep – with Amy at the door.
If PA becomes the election's lynchpin, there will be a ton of lawsuits challenging it – but Justice Barrett will be the decider, not Roberts.
The same cheat-by-mail scam is happening in North Carolina.  On Tuesday, the 4th Circuit voted to allow mail-in ballots to be counted until Nov 12, nine days later.  Way enough time to fake enough ballots with fake Nov. 3 postmarks.  Yet the case should be before SCOTUS next week on an emergency basis – and again, ACB will be there.
Oh, yes – Monday October 26, the day she becomes Justice Barrett, just happens to be Hillary's birthday. How beautiful is that?
************
To give you an idea of what an honest landslide victory POTUS will have in North Carolina – guess how many showed up hours in advance for his rally near Charlotte on Wednesday evening (10/21)?  A short clip gives you an idea:
https://www.youtube.com/watch?v=lNG8prZrUgU
The number is some 20,000.
That very same day (10/21), another candidate held a rally in the Tar Heel state.  The C-Span headline: Kamala Harris Greets Half a Dozen Supporters in North Carolina.
You read Tom Zawistowski's Why Mail-In Voting Will Not Decide or Delay the Election on TTP this week.  His analysis regards the Electoral College count is persuasive – but not entirely convincing as he's too cavalier about Pennsylvania and North Carolina given their so-far legalized cheat-by-mail scams.
That said, the margin of victory Trump will have on the actual vote count may be too large for the late-fake mail-ins to overcome.
Another interesting analysis from a different perspective comes from JP Morgan's top quant Marko Kolanovic. He charted the relationship in changes in voter registration to election outcomes in seven battleground states for the last seven presidential elections.  He wanted quantified evidence for the common sense assertion that "if more voters register for a party, they will also vote for that party."
Consider studying his data.  His concluding chart: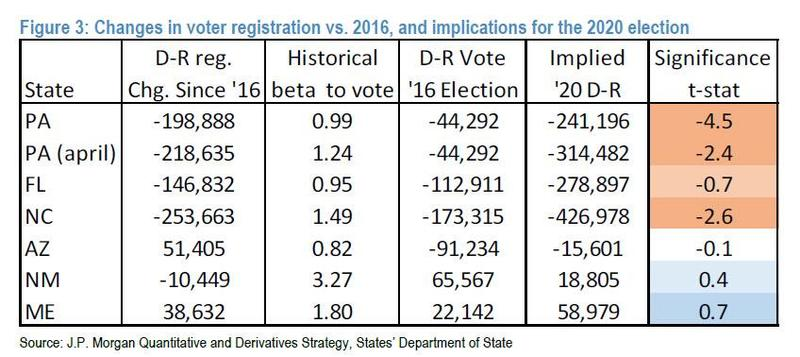 That is, the enormous surge in Pub registrations and loss of Dems' portends a substantial victory for POTUS in Pennsylvania, Florida, and North Carolina.  Needless to say, this invalidates the ridiculous Real Clear Politics average of fake polls.
************
Yesterday (10/22), Rasmussen Says Trump Just Hit the 'Holy Grail' of Reelection Numbers: 52%.  As Gallup has noted, "all incumbents with an approval rating of 50% or higher have won reelection, and presidents with approval ratings much lower than 50% have lost."
You can expect POTUS to stay above 50% now after his winning final debate and the ongoing massive exposure of Biden criminality.  Per the former, here's POTUS tricking China Joe into committing electoral suicide:
https://www.youtube.com/watch?v=IUFwpNv3JhI
"Would you close down the oil industry?" Trump asked Biden.
"I would transition from the oil industry, yes," Biden replied.
"Why would you do that?" Welker asked.
"Because the oil industry pollutes significantly," Biden explained.
"That's maybe the biggest statement in terms of business," Trump responded, "because basically what he said is he is going to destroy the oil industry. Will you remember that, Texas? Will you remember that, Pennsylvania, Oklahoma?"
The reaction summed up:
Holy cow…Biden just said he'll kill the oil industry. That is a television commercial…TX, PA, OH, ND, SD, AK, etc.

— Mark Meckler (@MarkMeckler) October 23, 2020
You'll enjoy reading Conrad Black's Biden's Campaign Blew Up in a Bad Way at AT.
"Like a fly blasted with insecticide, Biden and his campaign will buzz around for a few days in insouciant denial, but their levitation should finally be over. The fraudulent Biden campaign effectively blew up on Thursday night in Nashville."

************
But there's so much more to come.  Expect one blockbuster after another like this on RedState today (10/23): Jaw-Dropping Report Details Chinese State-Owned Company's Partnership With Biden, Kerry Families.
The full Report on Biden Activities with China is by Christopher Balding, Associate Professor at Peking University HSBC School of Business Shenzhen, China – who is fluent in Mandarin Chinese thus the original sources.
A lot more incriminating info on China Joe will show up on the Laptop from Hell now that his secret pseudonym of "Peter Henderson" has been discovered.
Plus this today: Code Name 'Project Hanson': Insider Documents Reveal How Hunter Biden Associates Helped Chinese Military Contractor Acquire Michigan Dual-Use Manufacturer:
"In September 2015, the Obama-Biden administration approved the sale of a strategically sensitive Michigan manufacturer, Henniges Automotive, to a firm connected to Joe Biden's son, Hunter, and a Chinese military contractor that was on an American watch list because of its close ties to the People's Liberation Army.

 

Hunter Biden's equity fund, backed by the Communist Chinese government, and the Chinese contractor, Aviation Industry Corporation (AVIC), needed special approval for the deal from the Committee of Foreign Investment in the U.S. (CIFIUS) because Henniges produced technology with potential military use."
Treason City.
************
Time for the Schadenfreude News of the Week.  One of the more obnoxious Trump Haters on CNN is its legal analyst Jeffrey Toobin.  He's suspended now since he gave his online impersonation of the Biblical Onan during a Zoom call with his colleagues.  "I didn't think anyone could see!" he moaned.
The gloats are many. Chickens Come Home To Roost for CNN's Toobin is one.  The Toobin Zoom Call Is Even Worse Than We Thought — Here's What They Were Talking About is another.
Most memes are too explicit to post here.  One of the milder ones: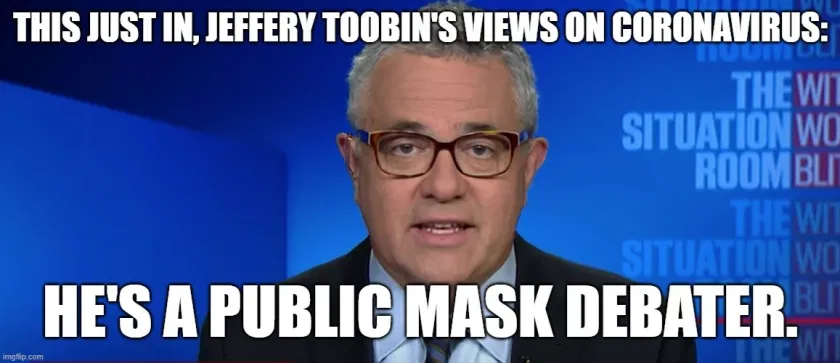 Here's what the Zoom call looked like expurgated:
https://www.youtube.com/watch?v=Ra9Ng6N2Uuk
Goodbye to a Trump-Hating Idiot.
************
One last note on the debate last night.  It was little wonder that the ridiculously biased debate commission switched the subject at the last moment from Foreign Policy to a hodge-podge of issues favoring China Joe, like "Climate Change" that voters could care less about.  (How'd that work out for you, Joe?)
POTUS has now been nominated four times for the Nobel Peace Prize.  No wonder.  A formal peace agreement was signed in Bahrain on Monday (10/19). From the White House: Joint Statement by the United States, the Kingdom of Bahrain, and the State of Israel.
On Wednesday (10/21) in TTP you read why American Muslims Support the President. This astonishing flip is all the more so because it is due to breakthrough peace agreements with Moslem Arab countries and Israel.  No one cares about the Palestinians anymore, much less Al Qaeda, much less mullahs in Tehran.
And today, (10/23) in the Oval Office: Trump announces peace deal between Sudan and Israel, says more Middle East nations will normalize relations.  We have a Miracle-Worker President.  You'd have to be as mentally defective as China Joe to not vote for him.
************
FYI – I will be speaking (via video conference) at Joel Nagel's Asset Protection Conference held in Las Vegas in mid-November (14th-18th).  There are few people who know better about this than Joel and his roster of other speakers (I'm the geopolitical guy).
You may recall Joel's article in TTP last July on The Coronavirus Passport.  He's a dear friend and amazingly knowledgeable. Nagel & Associates LLC in Pittsburgh PA, is an international law firm specializing in international corporate strategy and legal structures.
You'll need a personal invitation to attend, which you can do either personally or virtually.  Yes, this is exclusive, but as I'm a speaker, Joel said TTPers are welcome.
Joel can be reached at [email protected].  Contact him for the details on the conference and your personal invitation.  I guarantee it will be very worth your while.
************
We're closing with the HFR Hero of the Week.  She's a 25 year-old young lady named Alexandra Harley Laines, just married to a US Marine.  Recently she went on a rant against anti-Trump libtards that is simply epic. She exemplifies America's young as hope for our country's future.  Enjoy every word (you may have to listen more than once as she, like young people, talks super-fast for us folks of a certain age) of her We Are Voting for Trump Because of You.
https://www.youtube.com/watch?v=QihpwDe2WeU&feature=emb_logo