HALF-FULL REPORT 10/09/20
On Monday (10/05), Pedo Joe reminded everyone once again how he earned that nickname.  The Fox headline: Biden raises eyebrows after telling 'these beautiful young ladies' he wants to 'see them dancing when they're four years older'.
Enter "joe biden" + "little girls" on YouTube and you'll get a ton of video clips on his "inappropriate touching" and "sexual allegations."  The most disgusting one of all is the one above, where he pinches an 8 year-old girl's nipple during a swearing-in ceremony for Senator Steve Daines of Montana in January 2015.
If you have the misfortune of knowing someone who intends to vote for this pervert to be President of the United States, please consider sending the video link above to them – together with this handmade sign which hopefully might just shake them out of their stupor: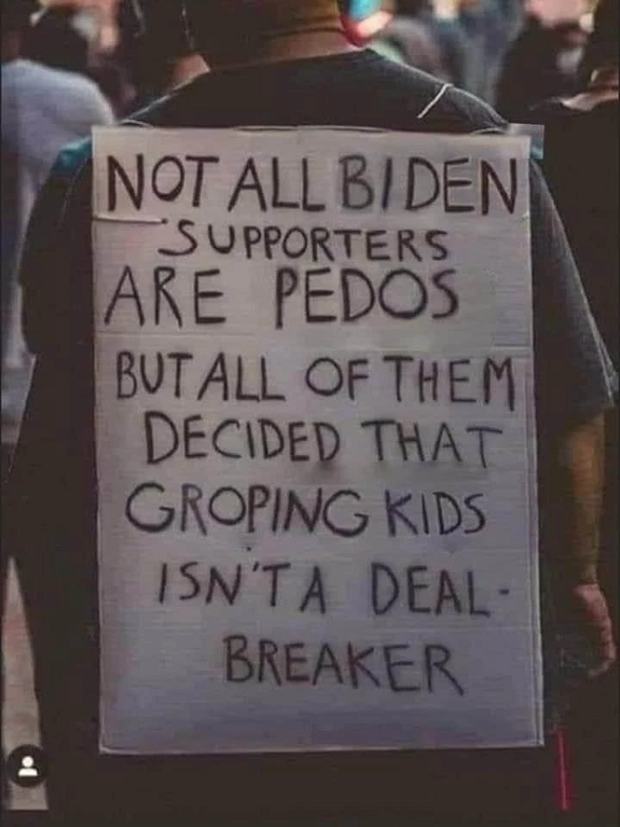 ************
Meanwhile, it's been quite a week for Donaldus Magnus.
It started last Friday evening with him being taken to Walter Reed.  White House Chief of Staff Mark Meadows among others was worried – "this is serious," he confided.  72 hours later he was cured, back in the White House, and addressing the nation to "not be afraid, do not let this virus dominate you."
By Wednesday (10/07), his medical team declared him "symptom free" with his system already producing antibodies providing immune protection.   No wonder people were calling POTUS "the real Captain America."
That Wednesday evening, Vice President Pence wiped the floor with Heels Up Harris, driving Dems and Leftards into the abyss of full psychotic frenzy.
The contrast of good versus evil could not be more stark: the President fighting for his life as they publicly hoped he would die.  No normal person in America can see them now as anything but pyscho depraved.
By yesterday (10/08), POTUS was on the White House South Lawn fully back to strong healthy speed making this announcement to his "favorite people in the world":
https://www.youtube.com/watch?v=YsUVVqF4gu8
While Bela Pelosi became an object of ridicule by regurgitating the Dems' pathetic ploy of using the 25th Amendment against him.  As the New York Post cover today (10/09) puts it: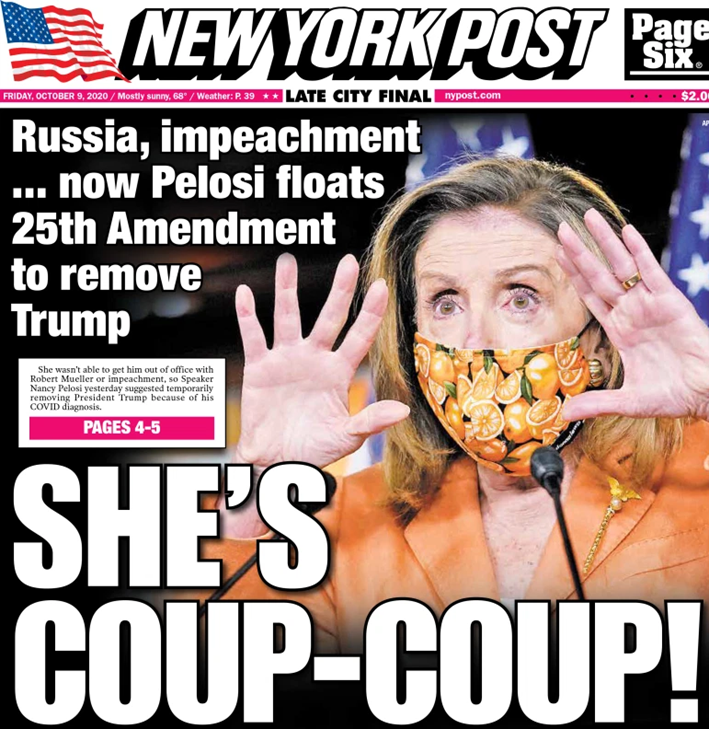 This is the week when all normals need to realize that TDS has become an actual mental illness, no metaphor or exaggeration or hyperbole.  They are in full and currently irretrievable amygdala hijack.
That's what's incapacitating them from any rational thought, driving them criminally insane. (Note: I'll be discussing this more in detail in an upcoming chapter of No Fear of the Evil Eye.)
Note:  this afternoon, America's Trollmaster turned the tables on Crazy Nancy with this.. haha!

************
We all know that the Dems only path to election victory is to rig voting laws in as many states as possible, to allow cheat-by-mail and ballot harvesting.  And we see now Trump's counter-strategy is a full court press of lawsuits to block this rigging.
A yuge victory came yesterday (10/08), with the Seventh Federal Circuit Blocking the Extension of Wisconsin Ballot Deadline.
A Dem district judge ruled that mail-in ballots could be counted up to a week past election day.  The 7th Circuit overruled him. All such ballots have to be delivered to Wisconsin election clerks by 8 pm on Nov. 3 to be counted.  Thus election results will known with hours of polls closing in this critical battleground state – just as POTUS promised would happen.
This is the latest in a series of legal victories, per Skye's Link yesterday: Team Trump Turns Tide in Voting Law Legal Battles.
Hopefully, there will be many more in the coming days and weeks.  All this underscores the critical importance of getting ACB confirmed and seated on SCOTUS well before election day.  Team McConnell has the hearings start next Monday (10/12), they will not last long.  A lot of Pub senators want a straight-to-confirm vote, which will easily pass.
Why the rush?  Because there's no trust in John Roberts.  With RBG gone, it's an 8-seat court and we have only 4 reliables, Alito, Gorsuch, Kavanaugh, and Thomas.  If a 5-3 vote was a sure thing with Roberts joining the good guys, no worries.  But a 4-4 deadlock would be ruinous in a critical cheat-by-mail decision.  With ACB on the bench, it's 5-4 for us even if Roberts betrays. QED.
So it's looking like a sure deal.  On Wednesday (10/7): Democrats See Double-Digit Increase in Support for Confirming Amy Coney Barrett to the Supreme Court.  Yep, a growing number of Dem voters want this done and dusted.
Note: We'll get a picture of how Roberts is swinging when SCOTUS votes on Arizona's ballot harvesting law.
************
Which is why McConnell thinks ACB's confirmation will help GOP Senate races.  All Dems – except Manchin – will vote No, and all Dem candidates say they would vote No.  This, e.g., will greatly boost Sen. Martha McSally (R-AZ) against Mark Kelly, who vows an ACB No. It's propelled Sen. Steve Daines (R-MT) over Steve Bullock 52-43 due to ACB.
Mitch needs this help to retain his majority.  35 Senate seats are up, and the odds are bad this year:  23 R versus only 12 D.  With a lot of vulnerables, every boost for them helps, like McSally, Daines, Gardner (CO), and Collins (ME).
McSally, by the way, now seems secure after the state's biggest newspaper, the Arizona Republic along with three of Kelly's fellow astronauts have endorsed her.  So is Daines. But Gardner and Collins may well lose, giving Mitch a 1-seat majority.
However, it's very likely that Alabama Dem Doug Jones will be wiped out by Tom Tuberville, and the same for Michigan Dem Gary Peters by John James.  That would bring Mitch back to 53-47.
One Pub Senator who has no more reelection concerns is North Carolina's Thom Tillis.  If you haven't heard what manna from heaven befell his campaign this week, you're going to laugh your socks off.
Thom was way down in the polls against US Army Reserve Lt. Col. Cal Cunningham – then Cal got caught "sexting" a married woman with whom he was having a steamy affair. Cal is not only married with two teenage kids, he's an ordained elder in the Presbyterian Church.
And now – wait for it – turns out he's been having a second affair, cheating on the woman he was having the first affair with (not to mention his wife).  Oh, yes, he's going to be court-martialed, prosecuted for adultery under US military code.
Goodnight, Cal, goodnight Dems in North Carolina.  Tillis has the safest seat in Senate.
************
We'll talk about the chances for a House majority next week – but in the meantime, you need to relax in your favorite chair, preferably with two fingers of your favorite adult beverage, and enjoy the absolutely positively greatest political campaign ad in world history.  Enjoy Navy SEAL and Texas Congressman Dan Crenshaw in Texas Reloaded:
https://www.youtube.com/watch?v=nWTqpEPOHXg&feature=emb_logo
************
The Libtard Polls remain as goofy as when they predicted a 90% chance of Hillary winning on election eve in 2016.  Yet here's the news today (10/09): Gallup Finds Majority of 56% Say They Are Better Off Under Trump Than Obama/Biden.
Even POTUS was taken aback:

Now contrast that with NO ONE Is Showing Up to Biden-Harris Events and NO ONE Is Watching Online – Biden-Harris Have Only 3% of President Trump's Online Viewership.
Since Labor Day the President has entertained more than 250,000 supporters at his events compared to Biden with a little over 300 supporters at his events.  Yesterday (10/09), Biden and Harris held a rally in Arizona – 8 supporters showed up.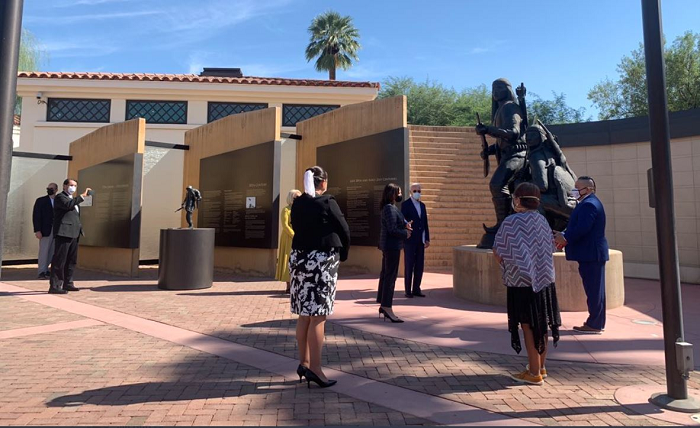 At the Carpenter Union HQ in Phoenix, Kamala drew a crowd of 20: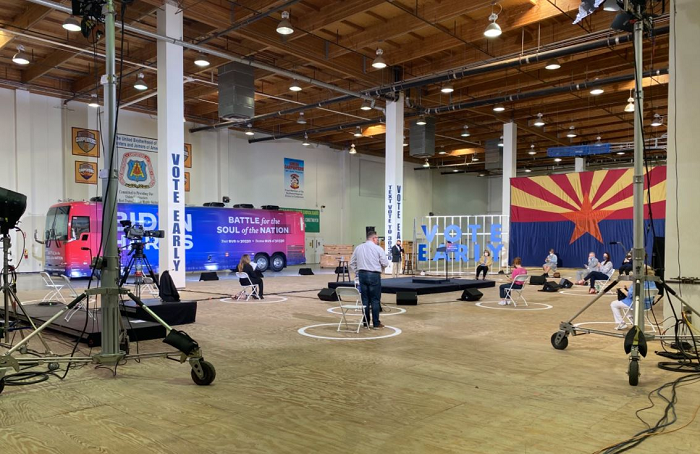 The Biden-Harris campaign is in Oakland, where "there's no there there," it's a Gertrude Stein campaign.
************
It's important to grasp, however, that what's going on in this election is not simply a matter of enthusiasm, as critical as that may be.  It's a matter of substance.  Biden has never accomplished anything of substance in his entire life, for he has done nothing in his entire adulthood except being a professional politician, doing nothing of note in 50 years except corruptly enriching himself and his family.
Just look at what POTUS has accomplished in just the last few days.  On Tuesday (10/06), he educated us on a Founding Father almost no one (including me) had ever heard of.  Here is the President's Proclamation on the Birthday of Founding Father Caesar Rodney.  It's a fascinating must-read on an unknown true American hero.
Also on Tuesday: White House Posts H-1B Visa Reforms to Help American Graduates Get Good Jobs
Most importantly, Trump stood up to the fear-mongering of the Democrats regarding their "pandemic."  Yes, it is theirs, as Commie Jane Fonda said (10/07), "Covid is God's gift to the Left."  As French philosopher Pascal Bruckner observes, "the culture of fear has always been the favorite instrument of dictatorships."
The Democrats and the Left want this "pandemic" and do everything to prevent cures like HCQ, to keep the fascist lockdowns going, because scared and terrified people are easy to control.  No fear, no control, no power.
The Democrat Party has tragically become the party of fascist evil.  We have a President who is standing up against it, who personally defeated the Chicom Virus in 72 hours, and tells the nation to no longer be afraid.  He is a true American Patriot Hero worthy of our Founding Fathers.
On November 3rd, Americans will prove worthy of him.