HALF-FULL REPORT 09/11/20
Welcome to The 9/11 HFR!  As TTPer Edd says, "What better way to honor 9/11 than with MAGA? ISIS has been crushed, Soleimani and al-Muhandis greased, and not a peep since."
Remember when the constant fear was of the next Islamofascist terror attack?  Seems like a long time ago, doesn't it?  Sure seems like Donaldus Magnus has cooked that goose.  Maybe not for good, but it's certainly something to celebrate today.
And so we open with a celebration of MAGA with Ricky Rebel – a Grammy-winning pop star glam rocker who's a bisexual Trump supporter.  How about that to mess Leftie minds up?  The BLM-Antifatards in Beverly Hills simply forgot how to riot with this patriot rocker dancing in front of them.  The BH police were thoroughly confused but happy.
The video above was released last Saturday (9/05).  When this story was written on Tuesday (9/08), it had 867,000 views: LGBT Activist Ricky Rebel Turns BLM Riot into Pro-Trump, Pro-Police Dance Party.  As of this morning, it's over 2.4 million views.  Two viewer comments:
"This is what the Democrats don't understand. We are all Americans: gays, blacks, whites, hispanics, orientals etc. We will not be divided. Hate has no place in Trump's America."
"This is what AMERICA is all about. Patriotic, Emotional, Standing Tall for your beliefs, and Love!! Not hate and violence like Antifa, and Burn, Loot, Murder!!! Patriots unite, all Ages, Genders, and Races, from Sea to shining Sea!! TRUMP 2020!!!"
************
Yet today – Patriot Day – is a solemn and sacred day for all Americans.  The President issued this Proclamation on Patriot Day 2020.  An excerpt:
"To fulfill our collective promise never to forget, we impart the memory of that fateful day to our children and grandchildren.  The smoke that rose from the Twin Towers, the Pentagon, and the Pennsylvania field carried away the souls of innocent Americans.  As we recall the images of our American Flag raised from the ashes of Ground Zero and the Pentagon, we are reminded that good triumphs over evil.  We recommit ourselves to fortifying our cherished American values so that future generations will know in their souls that the United States is the land of the free and the home of the brave."
This morning in Shanksville Pennsylvania, the President accompanied by the First Lady spoke at the National Flight 93 Memorial to solemnly commemorate the superhuman bravery of those who brought down Flight 93 at the cost of their lives:
https://www.youtube.com/watch?v=JU8fLhQXlDI
America is truly blessed by Providence to have such a man leading our country in these times.
************
I have written a great deal about 9/11 over the years.  An example for your consideration, from 2017, is 9/11 and the Religion of Slavery.
Now in 2020, as the President has protected us from the predations of foreign enemies, we must depend on him to defend us from domestic enemies of all that we hold dear.
The Wall Street Journal today ran an essay by an extraordinary Somali woman who rejected Islamofascism and has become a proud American citizen, Ayaan Hirsi Ali.  Entitled What Islamists and Wokeists Have in Common, we are offering it in TTP as a public service.
The entire Radical Left shtick of cancel culture, social justice, critical race theory, intersectionality, hating America, et al, she calls Wokeism.  Ronald Reagan would immediately agree with her itemizing its commonality with Islamism, for they are both forms of fascist totalitarianism.
And while the threat of Islamism has greatly abated, Wokeism is now the gravest threat our nation has ever faced because the forces behind it are determined to destroy the America we know.
If the Democrats manage to steal the November 3rd election, it will be an "Extinction Event," not a sudden mass extinction of species as periodically happens over geological time, but a mass extinction of freedom in America, and quite likely most of the world.
So what follows is a synopsis of what may happen between now and December 8 (why that date? read on).
************
The Wokeist buzz term of the week is "Red Mirage."  The scenario is because Pubs vote in person, Trump will have seemed to have won by landslide on election night, but is a mirage because Dems vote by mail which won't be counted by that night, with millions of them counted over the following weeks swamping the mirage with a Biden win.
As Dick Morris described it on Sunday (9/06):
"Blue state governors are mailing out tens of millions of ballots, and they're going to be returned with a vote on them, probably for Biden… (So after Election Day), day after day, week after week, you're going to find another million ballots counted here, another half-million there, another quarter of a million in another place. And gradually, these Democratic liberal secretaries of state who are in charge of the election in most of these blue states will say, 'Oh, well, we're sorry. It turns out Biden carried Wisconsin, not Trump'."
Evidence came the next day, Monday (9/07): Far Left Michigan Secretary of State Announces Michigan Will Not Have Results on Election Night – May Take A WEEK to Count All Votes!
"The steal is in. The Democrats know they cannot beat President Trump in a fair election, so they are laying the groundwork for delayed counting, mail-in ballot manipulation, illegal ballot harvesting and more."
No wonder ZeroHedge declares:  We're Facing the Biggest Election Nightmare in American History.
And what is Trump doing about this?  He could have prevented it had he ordered ways to implement federal law that only US citizens can vote in a federal election, stopping ballot harvesting, etc., but he didn't, he hasn't, and it's too late to do much of anything now.
Is there hope?  I happen to know members of a small group tasked personally by POTUS to write an EO (Executive Order) to prevent as much of this as possible using established SCOTUS-upheld federal law to be officially issued within the next ten days.  I'm not at liberty to say more. Cross your fingers.
Next, let's narrow our focus.  Here's the list by party of state secretaries of state. Quickly you can see the Soros-puppet Dems to worry about are Arizona, Minnesota, Michigan, North Carolina, New Hampshire, Pennsylvania, and Wisconsin.
To what extent can they pull off Morris-described cheats-by-mail?  And by the margins necessary to overcome a massive Trump vote, particularly in the Big Three electoral-vote key states of Michigan, Pennsylvania, and Wisconsin?  That's where the battle will be decided.
But decided by whom?
While the Dems will launch legal defenses supporting Dem cheating, they will be overwhelmed by the onslaught of attacks by the legal armies Trump has marshalled.  "If it's not close they can't cheat to victory" is the adage here.  The volume of Morris-level cheating – a million ballots found here, another half-million there – is neither possible nor believable.
What is possible is the Soros-puppets in the Big Three will give up in trying to cross a bridge too far.
And yes, Morris' prediction that the whole dog's breakfast will be decided by one man – John Roberts – is all too possible.
One thing that is doubtful Roberts can do is kick the can down the road and decide for a Contested Election.  That because not only will the result of the presidential election be undecided, but the chaos will pertain to the House and Senate as well – and only the new – 117th – Congress can vote in a Contested Election after being sworn in on January 3rd.
So SCOTUS has to cut the Gordian Knot for President, Senate, and House on December 8, when by the Constitution the Electoral College has to vote (35 days after November 3).
Bottom line?  My bet is the Wokeists will create so much violent protest between now and 11/03 that it will infuriate so many voters – which is already happening in spades – that POTUS' margin of victory will be too much for Dem cheat-by-mail to overcome in battleground states like the Big Three.
It may come down to Roberts, but that's my bet and I'm sticking with it.
************
Now for backup on that bet.  Let's start with this.  Google "Biden IV bruise" and you'll get 427,000 hits.  An explanation:
https://www.youtube.com/watch?v=by78JDoSWXc
What's SlowJoe pumping into his veins?  Vitamins or amphetamines are amateurish guesses. The smart money is on Aducanumab for treatment of Alzheimer's.  Looking forward to Skye's comments on this.
Recall the exposure by a Capitol Hill pharmacist back in 2017 who admitted prescribing Alzheimer's drugs for folks in Congress:
"It makes you kind of sit back and say, 'Wow, they're making the highest laws of the land and they might not even remember what happened yesterday'."
He's been doing this since 1997.  Joe must know him well.
On Wednesday (9/09), Joe Hiden got out of his basement to make a "campaign stop" in Michigan.  Remember last week's HFR about his event in Wisconsin where he had one single lonely supporter there for him? In Michigan there were zero, nada, zip-o. All that showed up were Trump supporters: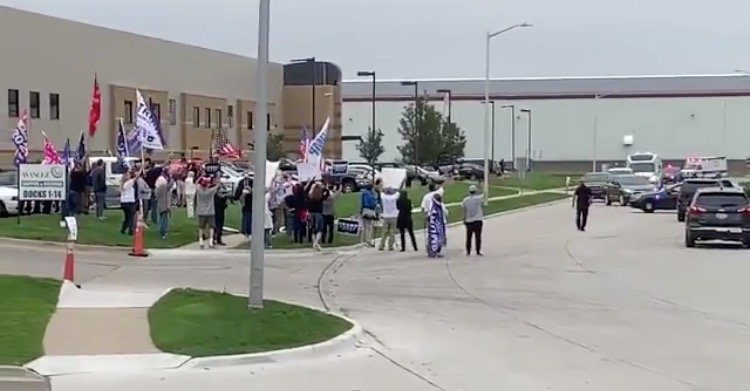 And what was his "campaign event"?  A speech off a teleprompter to a handful of local journos "socially spaced" in a parking lot – no one else.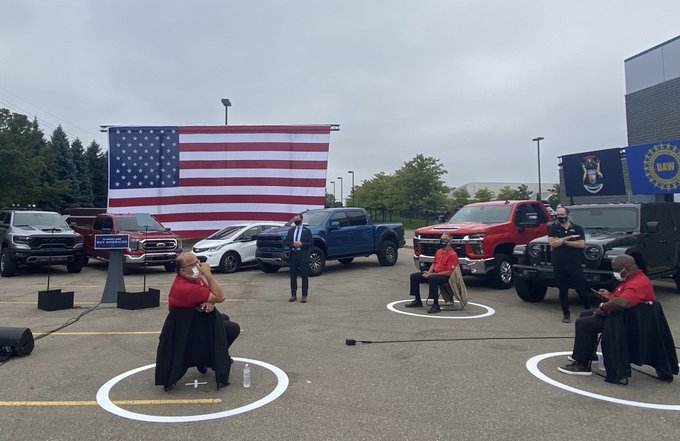 Which all of 2,267 people in the entire country were watching on his livestream broadcast.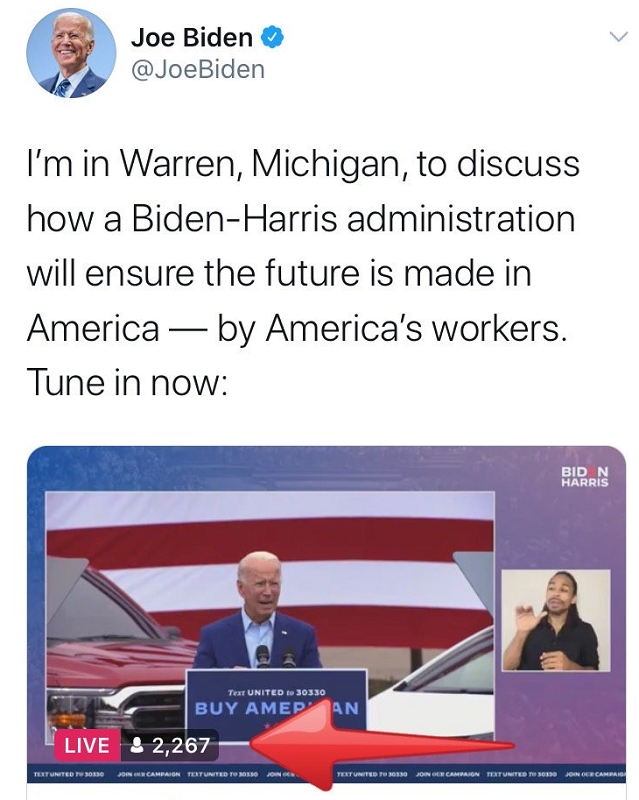 The very next day – yesterday (9/10) – POTUS had a real campaign event in Michigan, with thousands of cheering supporters.  Here's only part of them: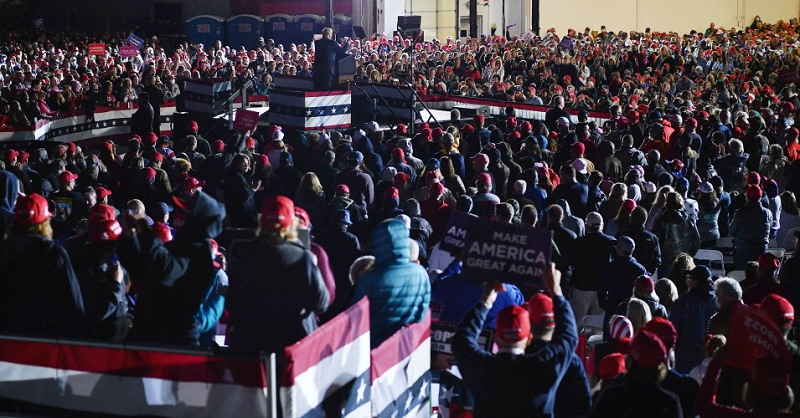 He made the crowd laugh telling them he was running against "Joe Hiden – the worst candidate in America's history of presidential politics."
https://www.youtube.com/watch?v=HGMxD4gPBgo
But when the huge crowd began chanting, "We love you.  We love you. We love you" – it brought him to actual tears:
https://www.youtube.com/watch?v=qRtwLNUmBbs
Okay, I admit it – the moment brought me to tears as well.  When you think of the stakes – this is for the whole enchilada, folks, the very existence of our beloved America – it's very hard not to love this heroic man.
Incidentally – he spoke for over an hour extempo, no notes nor teleprompter.  Hiden can't speak from a teleprompter for ten minutes without lapsing into gibberish.  Say what?
https://www.youtube.com/watch?v=y1nZD66hFJc
************
Then there are the ads.  They are devastating.
https://www.youtube.com/watch?v=JmXj613HPN8
https://www.youtube.com/watch?v=t6Nv73WM664
https://www.youtube.com/watch?v=GQ5a4lIyv1Y
But it's not just POTUS.  There are other ads making stars out of GOP House candidates.  You learned about Kim the Dem Slayer on 8/18.  This week it's genuine hero Alek Skarlatos, who played himself in Clint Eastwood's move 15:17 to Paris.
Alek is running against total Dem hack Peter DeFazio in Oregon's 4th CD.  His campaign ad has brought this attention: Hero veteran's 'Oregon is burning' campaign ad sweeps the internet for originality and fire.  "Best political ad I've ever watched," says one critic. You can see why – it's really cool, and so is Alek:
Today, Gary Palmer, chairman of the House Republican Policy Committee, made a persuasive case that Pubs have a good shot at taking back the House, with 53 Dems likely to lose versus 16 GOP.
And on the north side of Capitol Hill: Republicans Surging in Battle for Control of the Senate.
This will all continue to move in the GOP's direction as the BLM/Antifa fascisti continue to destroy Dem cities.
************
The week ends with three reminders of the President's astounding foreign policy achievements.  On Wednesday (9/09), he was nominated by a Member of the Norwegian Parliament for the Nobel Peace Prize for his Israel-UAE Peace Agreement.
Today POTUS was nominated a second time for the Peace Prize by a Member of the Swedish Parliament for his Serbia-Kosovo Peace Agreement.
And also today, POTUS announced a peace agreement with Bahrain and Israel. The second Arab country to make peace with Israel in a week.
The Dems stand no honest chance whatever against this political giant of a president.  They have no choice but to cheat.  All we have to do to save America is make sure they don't get away with it.