TWO COOL MOUNTAIN TAJIK KIDS AT THE FIRST PEARL OF SHING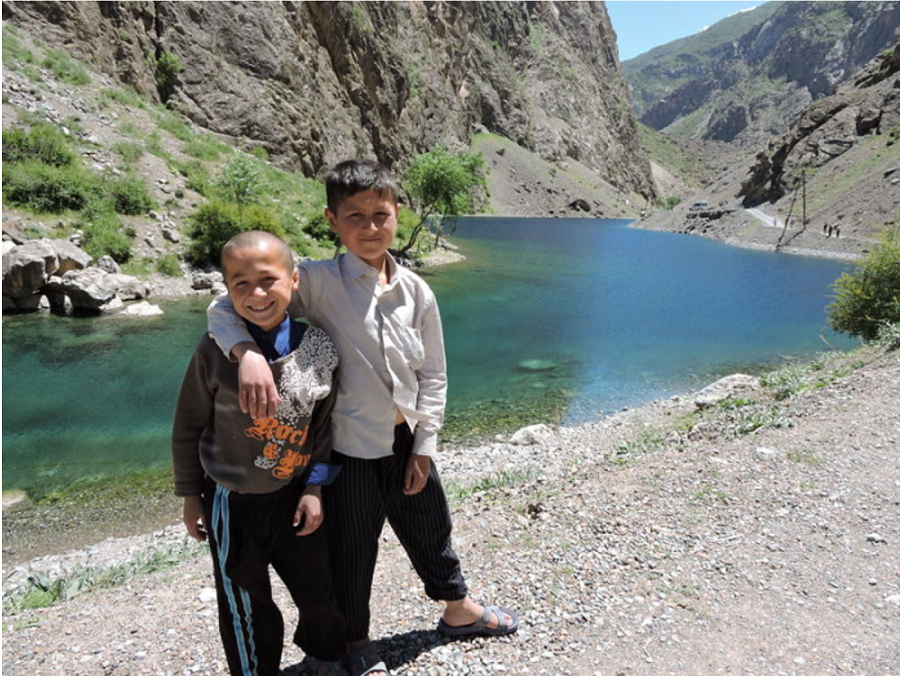 The high hidden Valley of Shing in western Tajikistan holds, as we learned in Glimpse #52, a series of seven stepping-stone lakes called the Seven Pearls of Shing. The valley is dotted with tiny villages of Mountain Tajiks, descendants of the ancient Sogdians who fought Alexander the Great.
Alexander fell in love with and married a Sogdian princess named Roxanna – and the girls of Shing are often named Roxanna to this day. The Mountain Tajiks of the Shing are a special people – strong, independent and free. They are also warm and welcoming. The kids – the girls just like the boys – grow up vibrant and confidant. These two young brothers exemplify that.
Each of the seven pearls have a unique breathless beauty, for they are of different colors and change according to the time of day. We are here at Mijnon (Eyelash), the first pearl, followed by Soya (Shade), Hushnor (Vigilance), Nophin (Navel), Khurdak (Little One), Marguzor (Blossoming), and Hazor Chasma (Thousand Springs). Towering above us are snow-laced mountains 18,000 feet high.
Perhaps you'd like to join your fellow TTPers to make the Seven Pearls, and so much else, a part of your life? Let me know! (Glimpses of Our Breathtaking World #53 photo ©Jack Wheeler)