THE TO SUA SWIMMING HOLE OF SAMOA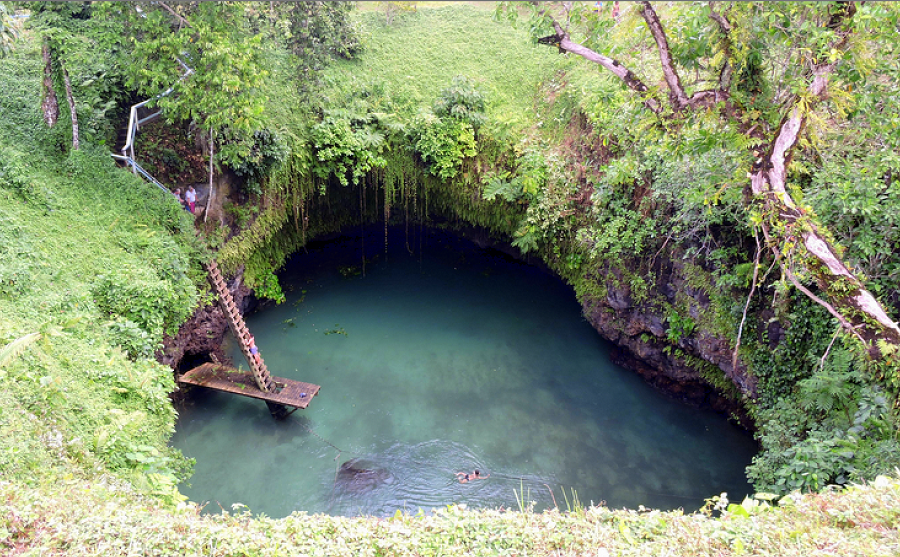 "To Sua" means "giant swimming hole" in Samoan. It's a collapsed lava tube hole on the south coast of Upolu in Samoa. On top of lava cliffs overlooking the South Pacific, you clamber down the ladder for a memorable swim. To Sua is but one of the attractions of Samoa: gorgeous waterfalls, marvelously friendly people, and the historic home named "Valima," of Robert Louis Stevenson (1850-1894), where he and his wife Fanny spent his last years.
On a hilltop rising above Valima is the gravesite of "Tusitala" – Stevenson's Samoan name, meaning "Telling of Tales." Engraved on the side of his tomb is his famous epitaph he wrote himself:
Under the wide and starry sky

Dig the grave and let me lie:

Glad did I live and gladly die,

And I laid me down with a will.

This be the verse you 'grave for me:

Here he lies where he long'd to be;

Home is the sailor, home from the sea,

And the hunter home from the hill.
Should you be lucky enough to come here, you'll fall in love with Samoa as did Tusitala. (Glimpses of Our Breathtaking World #136 Photo ©Jack Wheeler)