THE REGISTAN OF SAMARKAND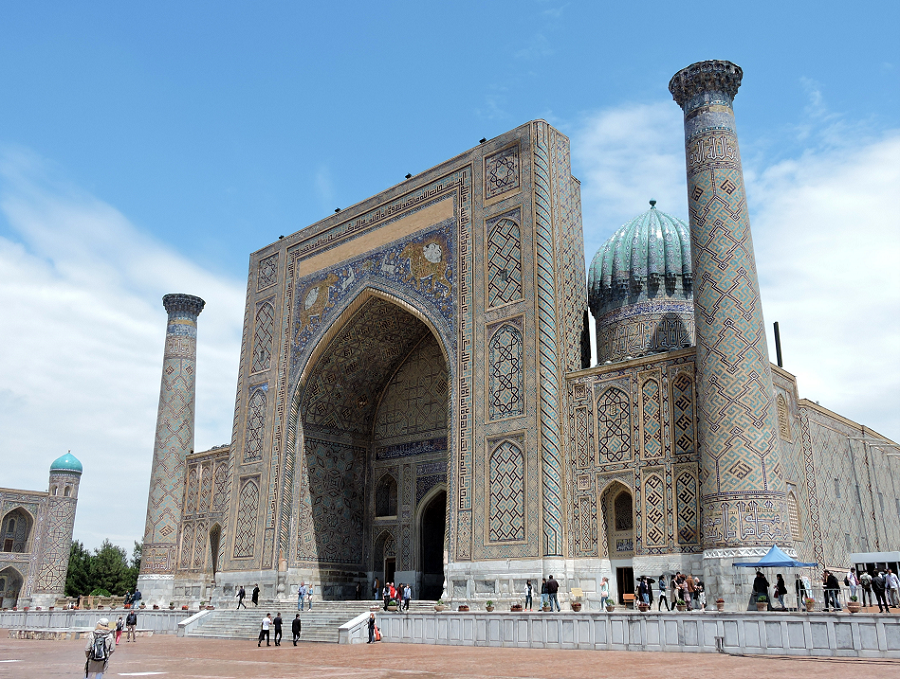 The magnificent Sher-Dor Madrassa, built in the early 1600s, is part of the Registan public square complex of the ancient Silk Road oasis of Samarkand. What's fascinating is the mosaic depiction of living beings on either side of the arch – a tiger and on its back a rising sun deity with a human face. This is honoring the pre-Islamic history of Samarkand that goes back almost 3,000 years.
It was centuries old when Alexander conquered it in 329 BC. For a thousand years as Central Asia's great entrepot on the Silk Road between China and the Mediterranean, it was a cosmopolitan center for Hinduism, Buddhism, Judaism, Zoroastrianism, and Nestorian Christianity. Incorporated into the Islamic world in the 700s, sacked by Genghiz Khan in 1220, rebuilt by the time Marco Polo in 1272 described it as "a large and splendid city," Tamerlane made it his capital in 1370.
Colonized by Czar Alexander II in the 1860s within the Russian Imperial Empire, and by the Soviets in the 1920s within the Uzbek SSR, Samarkand is flourishing today in independent Uzbekistan. There is so much to learn and contemplate upon when you are here. (Glimpses of Our Breathtaking World #67 photo ©Jack Wheeler)