THE NAGAS OF LUANG PRABANG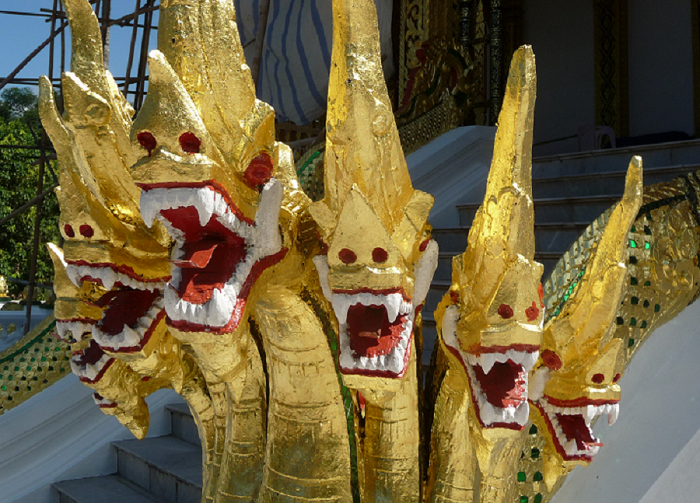 Nagas are multi-headed dragons who rise up to protect the former royal capital of Laos, Luang Prabang. The city along the Mekong River has been the center of Lao culture since the 600s. The Kingdom of Laos, "Land of a Million Elephants," had to struggle for centuries to avoid being absorbed by the empires of Siam and Khmer (Cambodia). It was the French who wrested Laos from Siam (Thailand) in the 1890s, giving it independence in 1953.
For centuries, devout Buddhists have been building beautifully ornate shrines and temples called Wats here in Luang Prabang. Every day at dawn, hundreds of red-robed monks living in the Wats parade through the city streets for donations. Since the Pathet Lao seizure of power in 1975, moving the capital to Vientiane, Luang Prabang is free of politics, preserved as a religious haven and treasure house of Laotian culture.
A few days here is not to be missed. As you enjoy a glass of good French wine at a riverbank café watching the sunset over the Mekong, give thanks to the Nagas who are still protecting this sanctuary city. (Glimpses of Our Breathtaking World #24, photo ©Jack Wheeler)