THE DEMAGOGIC DUO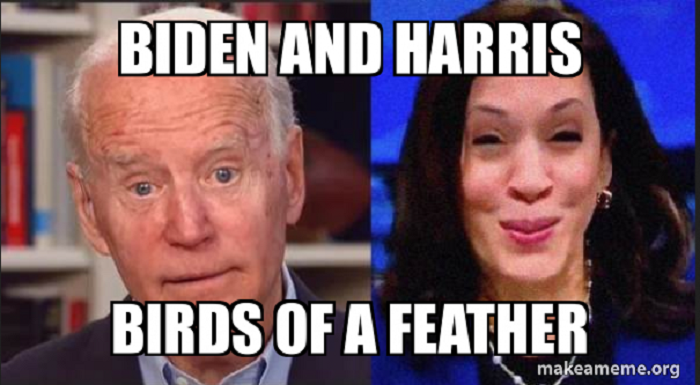 According to media accounts, a "power outage" delayed the debut of Joe Biden and Kamala Harris yesterday (8/13) — a foreshadowing of what we can expect from an anti-energy Biden–Harris administration.
Both are committed to an extreme environmentalism that will cripple America's oil and gas industry. Harris is opposed to all fracking. Biden has made as his vice-presidential running mate a San Francisco radical, whose voting record puts her to the left of Bernie Sanders and Elizabeth Warren.
But the media, seeking to con independents, is casting Harris as a "pragmatic moderate." Right. She is no more moderate than Biden, who has promised to be the most liberal president ever. His administration would combine the worst of the Obama years with all the extreme Left radicalism of today's Democrat Party.
On ample display Wednesday was the ticket's relentless demagoguery. Both Biden and Harris are audacious and monumental liars. It is a toss-up as to who lied more in their speeches.
Biden repeated the malicious whopper that Donald Trump praised white supremacists at Charlottesville. That is a malignant lie that shows Biden's willingness to divide the country for his own political gain. Biden knows perfectly well that Trump was referring not to white supremacists but to Virginians opposed to the Left's monument-toppling iconoclasm.
Both Biden and Harris spoke of the "soul of the nation," a phrase that ill befits a party determined to drive religion out of public life. Harris is on record saying that mere membership in the Knights of Columbus disqualifies a person from serving in the judiciary. Biden has said that he will force the Little Sisters of the Poor to violate their faith.
Harris used her speech on Wednesday to tout the killing of the unborn, a reminder that the party that dictates what people put on their bodies during the COVID-19 pandemic encourages women to do anything with theirs at abortion clinics.
What complete frauds. How can anyone take Biden and Harris seriously when they say they will fight "for the vulnerable"? They target the most vulnerable of all — those in the womb.
Equally unbelievable was the commentary from Biden and Harris about the COVID-damaged economy, which they blamed on Trump. Lying through her teeth, Harris said Trump, who presided over the lowest unemployment numbers ever before COVID, was somehow responsible for all the people out of work.
Trump had "inherited" a great economy from Obama and squandered it, she asserted extraordinarily enough. What shamelessness. The Obama–Biden economy floundered for eight years, only picking up after Trump cut taxes, pushed deregulations, and supported America's energy sector.
The interest of Biden and Harris in economic growth is nil. Biden has said that the "very first thing" he will do is eliminate Trump's tax cuts. He will restore all of the irrational regulations constraining business Trump has wiped out. And his "Green New Deal" will crush America's energy sector and the entire economy with it.
With a straight face, Biden said that his environmentalism will be a boon for "jobs." This is the same candidate who cavalierly told soon-to-be-out-of-work coal miners that they should learn "how to code."
In the name of "climate change," a Biden–Harris administration would throw tens of thousands of people out of work and drive up energy prices for all Americans. They subscribe to a left-wing ideology that sees a receding economy as a goal, not a problem.
Woe to Americans if they believe the lies of Biden and Harris. They are two lightweights who will crash America's economy, decimate her culture, and embolden the mob. If you want Black Lives Matter to rule America's cities, vote for Biden and Harris.
Harris's credentials as a prosecutor are a con. She stands with the rioters and marched with them in Washington, D.C. Like Biden, she wants to "redirect" money away from police officers and toward failed government programs, all for the sake of pacifying a movement based on lies.
Condescendingly, Biden cast his vice-presidential choice as a boost for "black and brown children." But the story of Kamala Harris's rise hardly makes for edifying children's reading. She rose through the utterly corrupt Willie Brown, with whom she had an affair, and through whom she received two patronage jobs in California. One would think feminists might wince at her bio. But they are not.
In this demagogic duo, they see the final enactment of Barack Obama's "fundamental transformation" of America.
---
George Neumayr is the author of The Biden Deception.