SKYE'S LINKS 08/05/21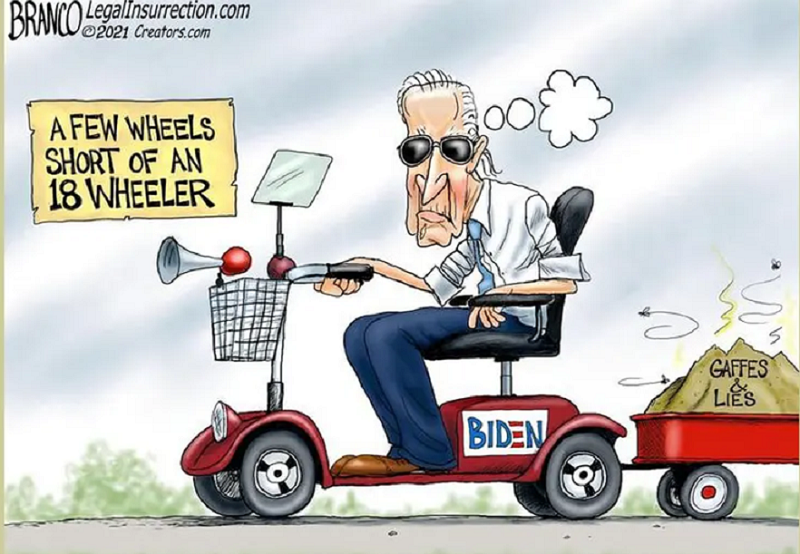 Because his mind is gone:
https://www.breitbart.com/politics/2021/07/29/joe-biden-sparks-confusion-with-claim-he-used-to-drive-an-18-wheeler/
From bad to worse:
Biden's truly bizarre behavior draws renewed scrutiny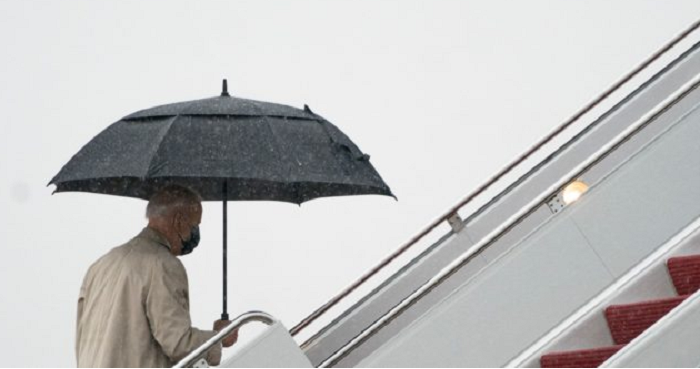 Consumer economic sentiment sharply drops, expectations of inflation sharply rise.  Most consumers expect the inflation to be only temporary, but they will find out the hard way by the next election:
'Inflation Storm' Looms as Expectations Hit 13-Year High, Consumer Sentiment Sinks
So-called bipartisan infrastructure bill contains green decarbonization mandates hidden in its 2701 pages:
Infrastructure Bill Includes State-Mandated Carbon Reduction Programs

Clean green power Down Under goes very dirty – note that they couldn't extinguish the grid battery fire, but could only try to prevent it from spreading while it burned itself out.  That is inherent with lithium ion batteries because they contain both the fuel and the oxidizer, so once they catch fire, they cannot be extinguished.  Note that the fire did spread to an adjacent battery module; obviously, Tesla didn't provide enough battery module spacing and isolation.  Now imagine what would happen if thousands of tons of those modules burned:
Tesla's Australian Battery Project Bursts into Toxic Flames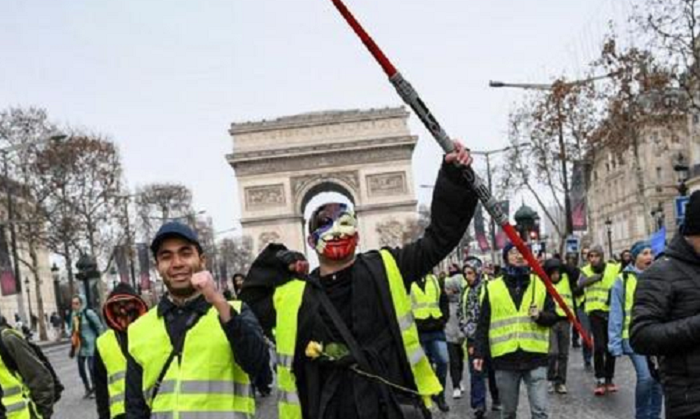 Democracy versus eco-dictatorship:
Europe's Expensive Climate Club And Its Detractors
While coal sales are booming:
If Coal Is Dead, Then Why Are Ships So Full Of It?
PayPay goes full Sauron:
Bokhari: Republicans Must Challenge PayPal's Assault on Civil Liberties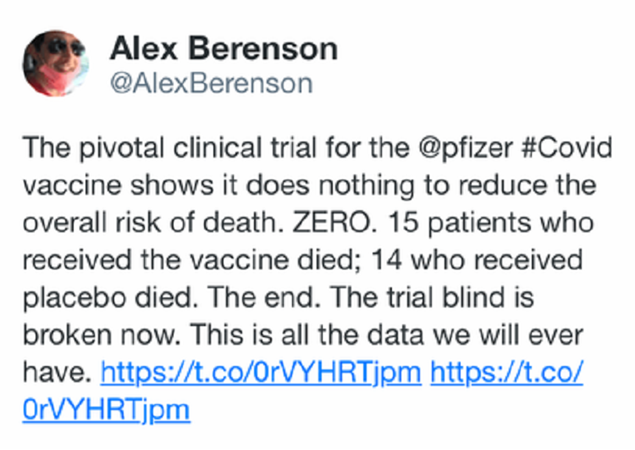 While Twitter uses 1984 as a training manual:
Twitter Suspends Science Writer After He Posts Results Of Pfizer Clinical Test
I think that this is a major part of the 'Crat's strategy for 2022 – because they sure won't be running on their accomplishments:
Nolte: Without Trump, Dems Attack the Unvaccinated to Salvage Midterms
Here is more about the 'Crat's plans for us:
J.D. Vance: 'Vaccine Passports Are a Disaster,' 'Slippery Slope'
Moving along the road to fascism:
NIH Director Collins: Businesses Should Require Vaccine Credentials for Customers
But wait, there's more, the Chief Faucist commands!
Fauci: Maskless Are 'Encroaching' on Others Right to Not Get Sick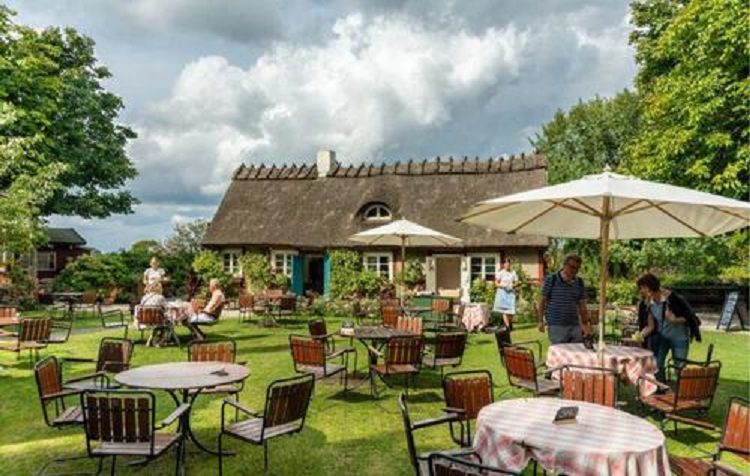 But Sweden has no mask mandates, no lockdowns and no daily CCP virus deaths:
Sweden: Despite Variants, No Lockdowns, No Daily COVID Deaths
House Foreign Affair's Committee ranking member on virus origins:
McCaul: Evidence Points to COVID Lab Leak Occurring around September 2019 When Lab Took Genetic Database Offline, Hospitals Were Busy
Full minority report PDF here:
https://gop-foreignaffairs.house.gov/wp-content/uploads/2021/08/ORIGINS-OF-COVID-19-REPORT.pdf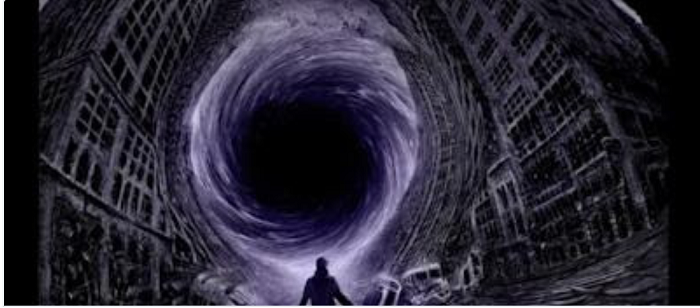 What the Davosdemic crowd wants, and why they may not get it:
Luongo: We Have Entered The Eye Of Davos' Storm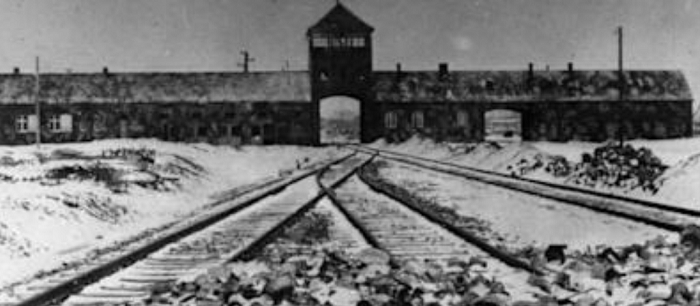 We didn't get here overnight. Approaching the New Normal:
Private businesses are not subject to the First Amendment – unless they act as "government agents."   If the business works with the government to censor particular types of speech protected by the First Amendment, it is black letter law that this transforms that business into a government agent and makes that business subject to the First Amendment.
Here is an official admission that social media platforms have chosen to become government agents, and hence subject to the First Amendment. A skilled First Amendment attorney could now bury them with multi-billion dollar class action civil rights lawsuits:
Mayorkas: We're Working with Platforms on 'How They Can Better Use' Their Terms to 'Prevent Harm' from Misinformation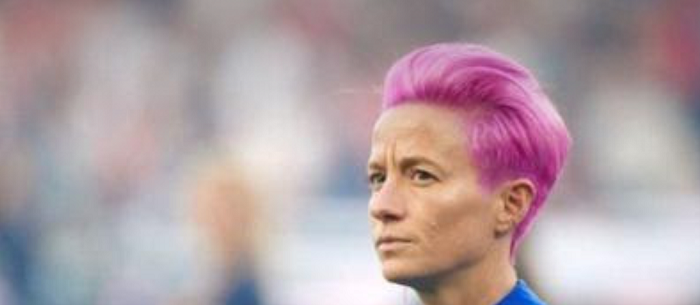 Me too! All TTPers too!
The Internet Celebrates the Collapse of the Left's Woke Olympic Icons
Perhaps the CDC read the June 2021 SCOTUS decision as the handwriting on the wall; if they extended their eviction moratorium, the 5th Amendment's Takings Clause could put a  $100 billion dollar hit on the Fed's budget:
Joe Biden Infuriates the Left After Failing to Stop Evictions
Nope!  The CDC says, "We don't need no stinkin' Constitution!":
'Biden Took An Oath To Uphold The Constitution, Not Violate It': Turley Opines On CDC's Revised Eviction Moratorium
What this doctor says about cloth masks versus N-95 respirators is all too true – and the CDC has known this since at least 2018.  (Beware, however, of KN-95 Chinese look-alikes; many are no more effective than ordinary cloth.):
Osterholm: Cloth Masks 'Not Very Effective' — N95s 'Could Do a Lot' in Mitigating Spread of Coronavirus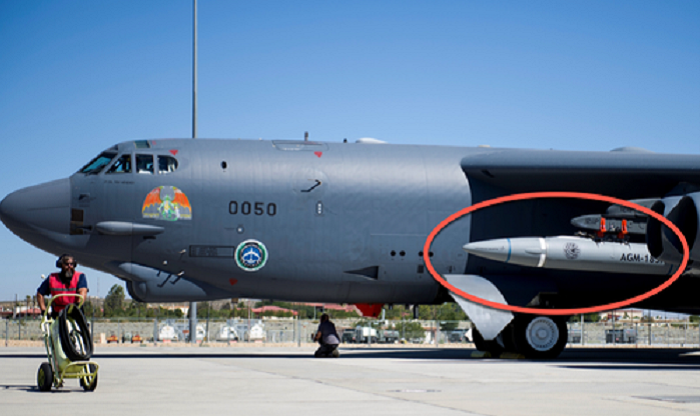 The latest USAF hypersonic missile test failed again.  There have been only two tests so far this year.  The USAF refers to this test tempo as "rapid prototyping".  I call BS! When I was working on Minuteman, we were doing more like a test every week – with a much larger and more expensive missile.  Yes, this is a technically difficult problem, and at this pace, anything that they develop will be obsolescent before it is operational.
Of course, Xiden isn't going to speed things up.  Both Russia and China have operational hypersonic missiles.  Our carrier groups have no adequate defenses against them (such as rail guns or high energy lasers), either.  Hypersonic missiles make aircraft carriers (without adequate defense systems) the new battleships – big fat expensive vulnerable targets…
Air Force's Second Attempt To Air-Launch Hypersonic Weapon Fails
If you are invested in crypto, look out:
"Not A Drill": Infrastructure Bill Could Sink American Crypto Industry
More here:
Electronic Frontier Foundation Sounds Alarm on Infrastructure Bill's Crypto Tax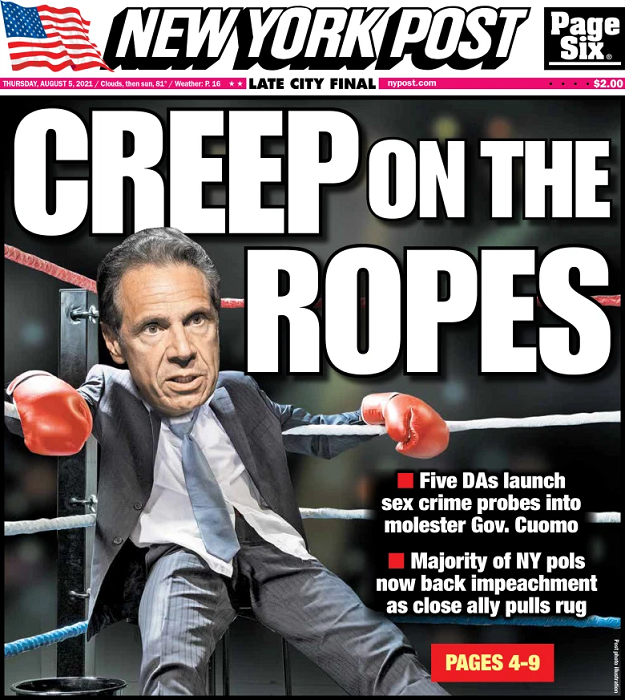 Blue versus Blue; Pelosi calls for Gov. Cuomo to resign – for touching several women without their express consent – not for murdering literally thousands of nursing, assisted living, and retirement home residents with his executive order requiring that nursing, assisted living, and retirement homes re-admit recovering but still infectious Fauci's virus patients:
Pelosi Calls Upon Disgraced New York Governor Andrew Cuomo to Resign
Cuomo finally under criminal investigation – but not for thousands of counts of negligent homicide:
Albany County DA Soares: Gov Cuomo Under Criminal Investigation
More Blue versus Blue:
De Blasio: Cuomo 'Should Face Criminal Charges' and Needs to 'Be Impeached As Quickly as Possible'
It's a Blue versus Blue pile on – but not a whisper about the thousands of deaths caused by Cuomo's executive order:
Times Up' Calls for NY Gov. Andrew Cuomo to 'Resign Immediately'
Cuomo's actions regarding several women were apparently both wrong and illegal, but nowhere near as serious as the thousands of deaths resulting from his executive order.  I think that the 'Crats desperate to to get rid of Gov. Cuomo before those deaths become an issue in the next election:
https://www.breitbart.com/politics/2021/08/03/new-york-ag-cuomo-sexually-harassed-state-employees-violated-laws/
If the absence of state and city income taxes weren't enough (to say nothing of lethal executive orders). here is another reason for NYC residents to move to Florida:
https://www.breitbart.com/politics/2021/08/03/new-york-city-mandate-vaccine-passports-enter-restaurants-gyms/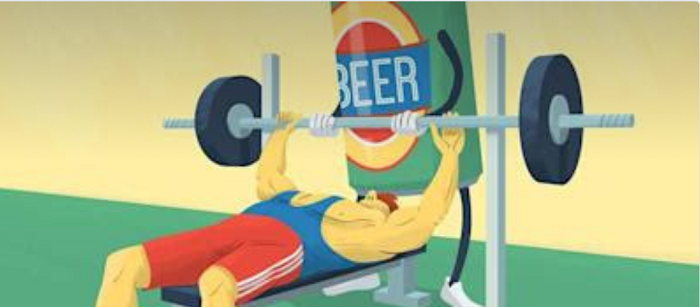 Some good news about beer, exercise, and athletic performance.  Enjoy!  In fact, it's time for my IPA: