HALF-FULL REPORT 12/25/20
Welcome to The Merry Christmas HFR!
And yes, for us as Andy Williams immortalized it in 1963, this is The Most Wonderful Time of the Year – which we get to and will celebrate despite any attempt to stop us.
So before we go any farther, let's take a moment to appreciate the joyousness in our hearts on this Christmas Day.  Feels glorious, doesn't it?
It's a sorrowful tragedy that many of our fellow Americans are suffused with such a depth of fear and anger that they resent our joy – to the grotesque extent of wanting government guns pointed at us to stifle it.
That fear and anger causes the abyss between us and them – we are pro-freedom, they are anti-freedom; pro-America, they are hate-America; pro-honesty, integrity, and moral decency while they have contempt for all three.
Given that, here is the most critical distinction between us and those of the Left:  There are so many more of us than them.
We vastly outnumber them, we are mad as hell and aren't going to take it anymore, and when it comes to it, we physically possess the consequence of the Second Amendment and they do not.
************
I trust you rocked on to the first item of Skye's Links yesterday – "Stand and Deliver" by music legends Eric Clapton and Van Morrison – while at the same time paid very close attention to the lyrics:
Do you want to be a free man
Or do you want to be a slave?
Do you want to be a free man
Or do you want to be a slave?
Do you want to wear these chains
Until you're lying in the grave?
Magna Carta, Bill of Rights
The Constitution, what's it worth?
You know they're gonna grind us down, ah
Until it really hurts
Is this a sovereign nation
Or just a police state?
You better look out, people
Before it gets too late
Released on December 18, it is the latest entry in Van Morrison's Save Live Music campaign, praised by Senator Ted Cruz.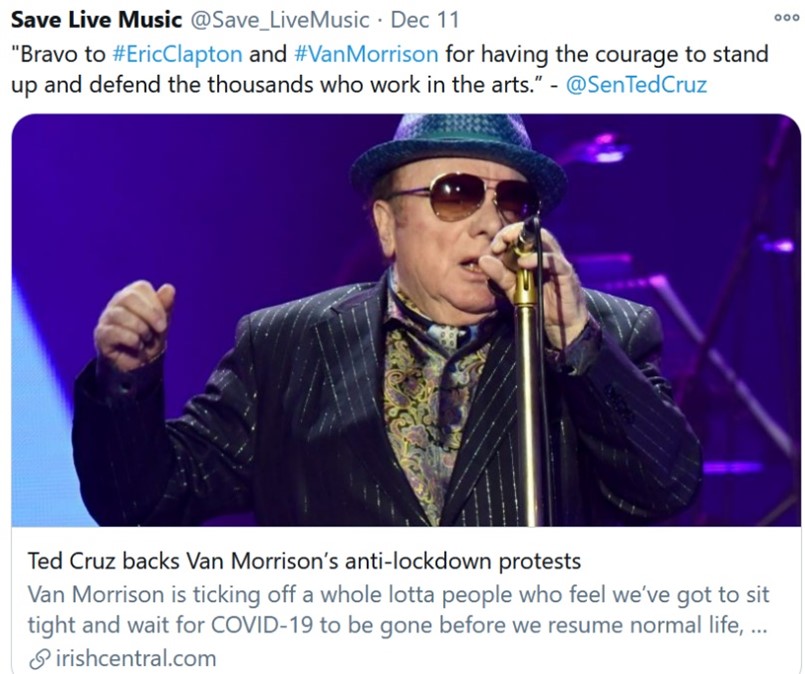 The most presciently inspirational is Morrison's No More Lockdown.
No more lockdown
No more government overreach
No more fascist police
Disturbing our peace
No more taking of our freedom
And our God-given rights
Pretending it's for our safety
When it's really to enslave
The music video is of anti-lockdown protests in the UK and Berlin.  Watch their progression from beginning to end – there's a crucially important lesson for us.  As people refuse to tolerate government police state lockdown fascism, they reach the tipping point threshold of Triple U – Uncontrollable Urban Unrest – whereupon the police have to give up being goons.
https://www.youtube.com/watch?v=850_U1YQkhw
This is the prelude to what's coming to America:  Triple U rebellions against Cadaver Fascism should the Dems seize the presidency on January 20.
************
Unless courage conquers cowardice in Congress 12 days from now on January 6 – and with Republicans that's always an extremely risky bet – America enters unchartered waters never encountered before.
Sharyl Attkisson at the Epoch Times counts at least Eight Screaming Red Flags of Criminal Election Fraud that stole the presidency from Trump.  No court will even look at the evidence, rejecting them on procedural grounds only, including the Coward Faux-Supreme Court.
Next comes Georgia, with the same rigged Dominion voting machines, the same millions of fake ballots, the same governor and election chief bribed by China all but guaranteeing the theft of Senate control by the Dems.
Will the three Coward Justices – Barrett, Gorsuch, and Kavanaugh – pull their Pontius Pilate act again, washing their hands of any responsibility from America's doom?
The Must-Read here is Marlo Horne this morning (12/25) at AT:  What Are the New Justices Thinking??
"It is hard to imagine that the new SCOTUS justices are not concerned about the future and their reputations.  We are not only at a crossroads; we are also at a precipice.  If we go over that precipice by allowing election fraud, whether or not we ever recover is uncertain, perhaps impossible.  Free and fair elections may well become a thing of the past."
The reality right now is, there is only one single man standing in the way to prevent this.  And he is continuing to stand, he will not give up, he will not relent.  Last night (12/24), he posted this on twitter.  It is worth watching entire for this is his personal message to you and every other patriot in America:
The task at this moment before him is to do whatever is necessary to ensure his deputy Mike Pence obeys his order to reject opening the illegal "certificates" of Democrat Electors of Arizona, Georgia, Michigan, Pennsylvania, and Wisconsin, choosing to open those of the Republican Electors instead, in his capacity as President of the Senate on January 6.
As you read on Wednesday (12/23), TTP provides the Constitutional authority and historical precedent for Pence to do just this.
************
It's dawn in America as I write this, but it's nighttime in Bali where Rebel and I are about to have Christmas Dinner with our son Jackson and our daughter-in-law Raya.
So it's time to close this last HFR of 2020.  This has been the most farcical and lunatic-fascist year of modern times, not just for America but the whole world.  One week from today will be New Years.  It will be our moral obligation to make – make no matter what – 2021 a far better year than its predecessor.
Let me take this moment to express my appreciation and admiration to all of you, my fellow TTPers.  Because of you, I know I am not alone in this world – and you know you are not alone because of TTP.  Thank you so much for your love of America, for the reasoned thoughtfulness that you express it and live it.
Our TTP family really is an Oasis for Rational Conservatives – an oasis needed more than ever today – and I could not be more grateful that you are a part of it.  Merry, Merry Christmas to you all!!