HALF-FULL REPORT 12/04/20
This is the Down to the Wire HFR.  The Stop the Steal war is being waged on two fronts, with state legislatures and with SCOTUS.
Next Tuesday (12/08) is Safe Harbor Day when state legislatures must appoint Electors.  This week, Giuliani and his legal team presented their case why they should vote to either decertify Biden Electors or appoint Trump Electors instead.
In Michigan:
https://www.youtube.com/watch?v=wz5clqc1NkM
In Pennsylvania:
https://www.youtube.com/watch?v=09MUw0P5PyE
In Georgia:
https://www.youtube.com/watch?v=rnVSuDP6ZFQ
And in Arizona, where Giuliani witness, Army information warfare expert Col. Phil Waldron, obliterated the integrity of Dominion vote counting systems:
https://www.youtube.com/watch?v=RQ2a46OjqfI
The hearing had an immediate impact.  This morning (12/05): Arizona legislature demands forensic exam of Dominion machines: 'Voters believe fraud occurred'.  A step in the right direction.
Remember how HFR 11/07/20 4 days after the election began with The Map That Can Save America?  It was of a map of state legislature control by party, noting that all contested swing states have GOP control – which is exactly why Giuliani spoke to them this week.
So now we wait until next Tuesday to see if they have American spines or those of jellyfish.
************
There was another breakthrough this week in Georgia – where a video camera recorded Dem vote counters pulling out secret suitcases of ballots in the middle of the night after the GOP observers were asked to leave:
https://www.youtube.com/watch?v=oQ9YGSMY2xg
This is federal crimes being committed in front of our eyes – and see the lady in the purple sweater?  She has been identified – her name is Ruby Freeman.  You in a whole heap a' trouble, Ruby – y'all don't get yoself suicided before you go to trial, ya hear, gal?
The surveillance video is being called "The Smoking Gun from Georgia."  Fox this morning (12/04) reports the GA Gov. Brian Kemp is asking his crooked secretary of state to rescind his certification of Cadaver as winning until a "signature audit" of the votes are completed. POTUS cheered:

************
The yuge problem is that POTUS needs 37 Electoral Votes either flipped to him to win, or negated to force a Contested Election in the House which he would win (as Cadaver has 306 attributed to him).  That requires a combo of PA-20, GA-16, MI-16, AZ-11, WI-10 adding up to at least 37.  It may be too much courage to ask of not just one or two but three groups of state legislators.
Okay, we'd settle for PA + GA or MI getting to 270 as having one Elector elsewhere to flip would be easy.  Still, it's a hill to climb.  How about SCOTUS – an easier or harder ascent?
Key Team Trump lawyer Jenna Ellis provided a superb summation this morning to Fox's Maria Bartiromo. Starting with the Georgia surveillance video, she goes on to say the best path is for the state legislators to decertify – but that their lawsuits brought to SCOTUS are requesting the Supremes to at least halt certification in contested states, which may well be granted.  She's well worth watching:
https://www.youtube.com/watch?v=xRs2urjnzMU
As you may have seen on the Forum, Skye leans to a negative SCOTUS outcome: "I don't expect SCOTUS to block certification of the vote and throw the election into the House as a contested election. I doubt that they have both the guts and the necessary technical expertise in computer science."
TTP's resident computer science guru Tex Manchester agrees that "based on the Dominion issue alone SCOTUS isn't likely to reverse anything. HOWEVER, when you combine that issue with the sworn testimony and affidavits of old-fashioned methods of cheating, either the State Legislatures of some states or SCOTUS should remove them from consideration, leaving both candidates with less than 270."
Tex makes a good case, and when I had my pre-HFR call with Skye early this morning, he thinks so too.  We should know by next Tuesday.
************
In other words, as the HFR has been maintaining, there are still good odds for a House Contested Election, which will reelect POTUS 27-22.  On to the House.
Two weeks ago, HFR 11/20/20 predicted that the GOP would win at least four of the remaining five undecided races.  And sure enough, by this week, they did: David Valadao-CA 21, Mike Garcia-CA 25, Marjorie Miller-Meeks-IA 2, Lee Zeldin-NY 1.
There's only one race left, NY 22 where Claudia Tenney vs Dem Anthony Brindisi still too close to call.  Thus Real Clear Politics has the results up this morning (12/04):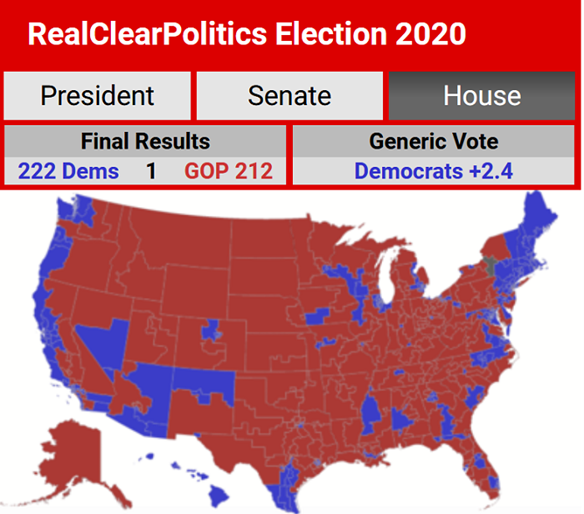 With their ungovernable razor-thin Dem majority, it would be amazingly stupid for them to keep an 80 year-old senile woman as Speaker.  But, face it, if they had any brains or character, they wouldn't be Dems in the first place.
Regardless, it will be easy for Kevin McCarthy and his Whip, Steve Scalise, to pick off a few in key votes.  And when POTUS wins the Contested, you can bet several will move across the aisle.  We won't have to wait until 2022 for Speaker McCarthy.
For the Senate – any calls for GOP voters to boycott the double runoff on January 6 are imbecilic.  With POTUS' rallies starting tomorrow (12/05) combined with the most intense election scrutiny in history, Perdue and Loeffler will easily defeat their goofball lightweight lefties opposing them.
And here's another heartening election highlight: 2020 Election Boosts GOP State Legislator Advantage by 67 Percent. Pubs now have majorities in both the state senate and house/assembly in 27 states.
These legislators "decide much of the policy that affects people's daily lives, in areas such as education, law enforcement, health care, housing, and infrastructure," notes the article, plus they'll draw congressional districts after the 2020 census, making 2022 a banner year for the House GOP.
************
Now let's look at how viscously the Dems are mired in beaucoup deep kimchee.
Both Skye and I are fans of an extraordinary genius, a Professor of Mathematics, Anthropology, and Evolutionary Biology (all three departments) at the Univ. of Connecticut named Peter Turchin.  You can look up his many books on Amazon.
One of his historical and mathematical theses is the overproduction of elites so often leads to societal chaos and even collapse, because it causes violent competition between them, with the most ruthlessly violent coming on top of the rotten pile.
Think of the Bolsheviks wiping out the more moderate Mensheviks during the Russian Revolution, or the most violent Mexican drug cartels defeating their rivals.
In America, what we have is the Overproduction of Leftist Elites, epitomized by hordes of Millennial college graduates with worthless degrees rioting for BLM.  So now we get headlines like this on Wednesday (12/02): Black Lives Matter movement imploding over internal power struggle, money grabs.
There's going to be lots of this now, cartel wars between factions of Dem elites.  Like the Fascist "Squad" of the House Dems led by depravities like Ilhan and AOC on a slippery slope to outright gangsteri threats to those Dems who oppose them.
In this descent into violent internecine war, a corrupt pussy like Cadaver doesn't stand a chance.  He already admitted it on CNN with Jake Tapper last night (12/03) that "if I reach something where there's a fundamental disagreement (with Harris) we have based on a moral principle, I'll develop some disease and say I have to resign."
https://www.youtube.com/watch?v=6QYw7b8xJcQ
************
This does not mean that Dems will spend all their time fighting each other.  Now that they have gone Full Fascist, realize they will never leave us alone. Nothing will ever be enough for them.  They will always demand we surrender more of our lives to them.  Just take the unending Scamdemic Lockdowns and Ubiquitous Mask Submission as examples.
Which mean we have no choice but to resist to the best of our capabilities.  Their will come a time when resistance needs to be kinetic.  Yet before that becomes widespread, it needs to be wisely targeted upon their greatest vulnerabilities.  Big corrupt Dem cities – the source of all the Election Megafraud last month – have so many (water and power being only two) they are legion.
That's only if the impossible happens, that's if Cadaver instead of our POTUS is on the inaugural stand on January 20.  No matter what, our first priority should be to demand real and rigorous Electoral Reform.  One key part of it is critical yet should be easy.
That's because of what the House did Wednesday (12/02).  It passed by Unanimous Consent S.945 which passed, also unanimously, by the Senate last May, and goes to POTUS' signature immediately.  It's the "Holding Foreign Companies Accountable Act," requiring that any foreign companies traded on US stock exchanges must prepare financial disclosures and audits in compliance with US accounting standards (GAAP: Generally Accepted Accounting Principles).
All US publicly traded companies must do this, and now foreign ones – especially Chinese – must be in GAAP compliance.  The point here is that there are no compliance laws for election accounting.  There must be strict audit trails, strict vote accounting procedures to prevent crooked companies like Dominion from rigging the vote – GAAP compliance for vote counting in federal elections.
Should get unanimous consent from every Dem & Pub in both House & Senate, right?
************
Yesterday (12/03), POTUS delivered an address to the nation from the White House.  He stated this "may be the most important speech I've ever made."
"I want to provide an update on our ongoing efforts to expose the tremendous voter fraud and irregularities which took place during the ridiculously long November 3rd elections. This is not just about honoring the votes of 74 million Americans who voted for me. It is about ensuring that Americans have faith in this election and in future elections"
The Full Text is here. Please consider watching the entire 46 minute address.  This is our President fighting for what he knows is right, determined to triumph over a monstrously evil injustice, having the courage to stand for each of us in the face of evil..
Always know this.  Donald Trump will always be our President, standing for freedom against fascism. For America and not its enemies foreign and domestic.  He must prevail.