HALF-FULL REPORT 09/04/20
Well, Hallelujah!!  The only good murderous Antifa terrorist is a dead one.  And that's what happened to Antifa assassin Michael Reinoehl early yesterday evening (9/03), when US Marshalls attempted to arrest him, he pulled a gun on them and they drilled him right and proper. Aaron "Jay" Danielson has been avenged.
Wonder what that sword-swinging BLM fascist thug who declared on Saturday (8/29), "If You Kill One of Ours, We'll Kill One of Yours," thinks now.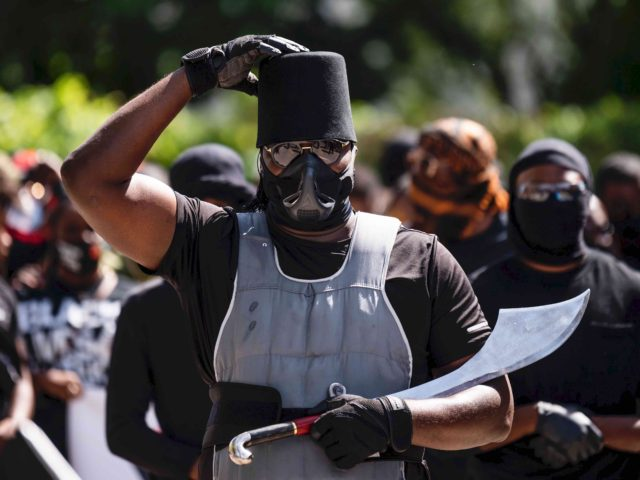 Maybe he'll realize US Marshalls will take him out the Indiana Jones way:
Bad week for the bad guys.  Antifa may start to unravel after this.  One unraveling became acutely obvious this week:  Joe Hiden's campaign.
After all, enter antifa.com on any browser and you are instantly automatically redirected to joebiden.com. Try it yourself and see.
************
How about this?
https://www.youtube.com/watch?v=fPcLtrNATvY
He actually said that wearing a stupid mask speaking to about 20 people in Kenosha, Wisconsin on Thursday (9/03).  He evidently is referring to Louis Latimer, who in 1882 filed for a patent on improving how to make the "carbon filaments" of Edison's incandescent light bulb patented by Edison in 1879 and in commercial production since 1880.
On Tuesday (9/01), POTUS visited Kenosha to inspect the damage by BLM/Antifa terrorists and to support the local law enforcement.  He was greeted by thousands of supporters: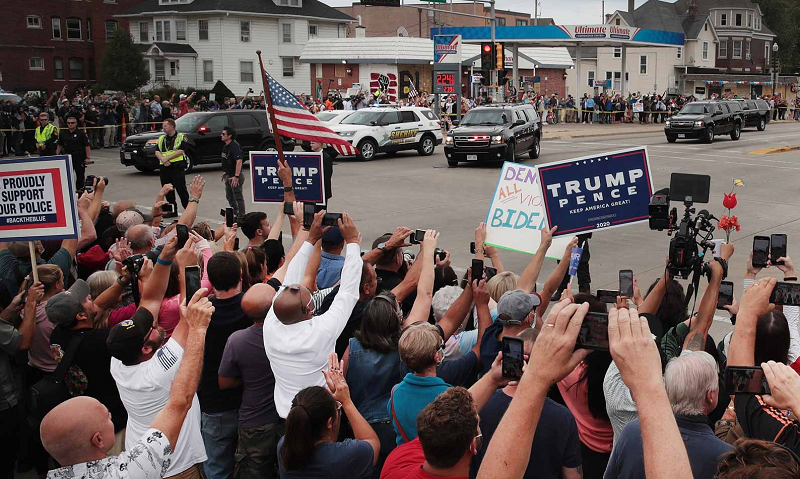 Basement Joe played pathetic catch-up yesterday, only to visit Kenosha to support the "peaceful protestors."  He was greeted by one single lonely supporter, a retired schoolteacher named Michelle Stauder: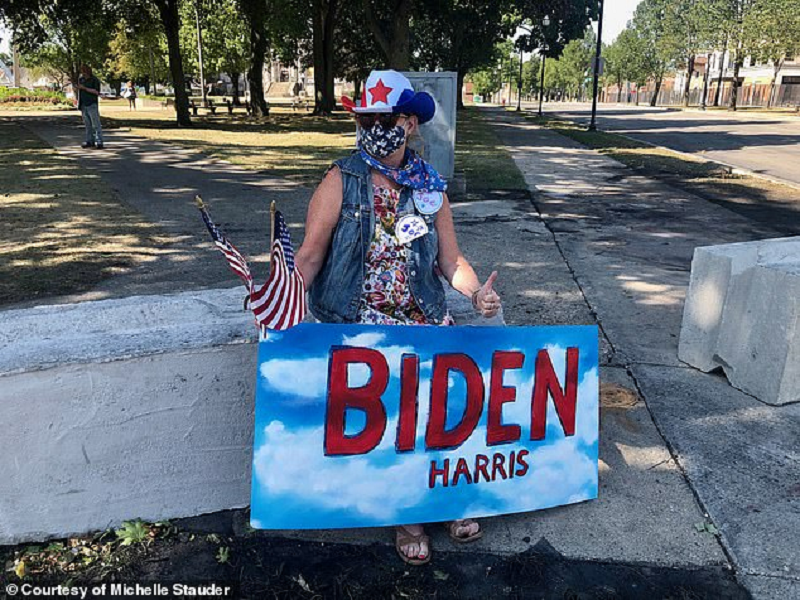 Kind of sums it all up, doesn't it?
While Dementia Joe had Michelle, at the same time yesterday POTUS was in Latrobe, Pennsylvania for a campaign rally.  How many showed up?  This is the overflow crowd watching the speech on big screens:

Here are some of the lucky ones to watch him in person: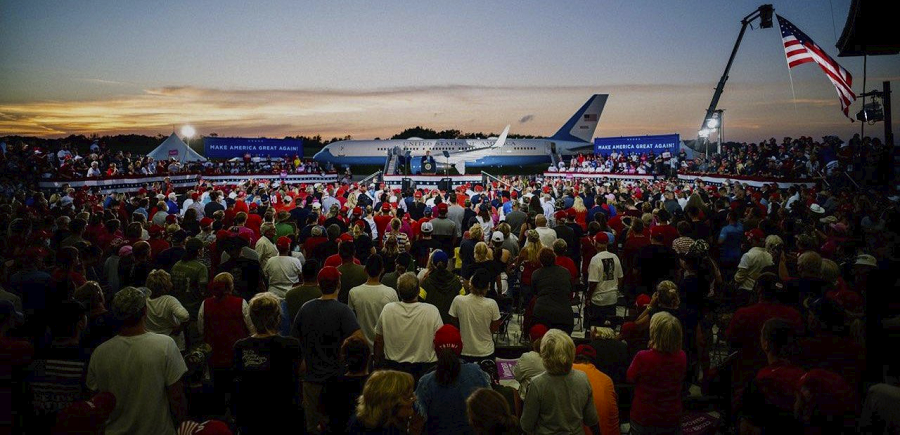 Depressing, isn't it, Joe?  Especially when it's so easy for your opponent to lampoon you like this posted Tuesday (9/01):
https://www.youtube.com/watch?v=e4AB242FxLk
This, however, is no lampoon.  Biden has become a laughingstock in Australia, yet this is a serious discussion on Sky News Australia on his mental capacities – posted yesterday (9/03), enjoy:
https://www.youtube.com/watch?v=Q61PwdaWr2I
************
So no wonder Leftie Guru Michael Moore warned the Dems last Saturday (8/29) that Voter Enthusiasm for Trump Is Off The Charts – while that for Biden is, well, in the basement.
That same day (8/29), the New York Post headlined: Why Democrats and Their Liberal Media Minions Are Running Scared.
The next day, last Sunday (8/30), the NY Post cover story was on the Dem plan to win: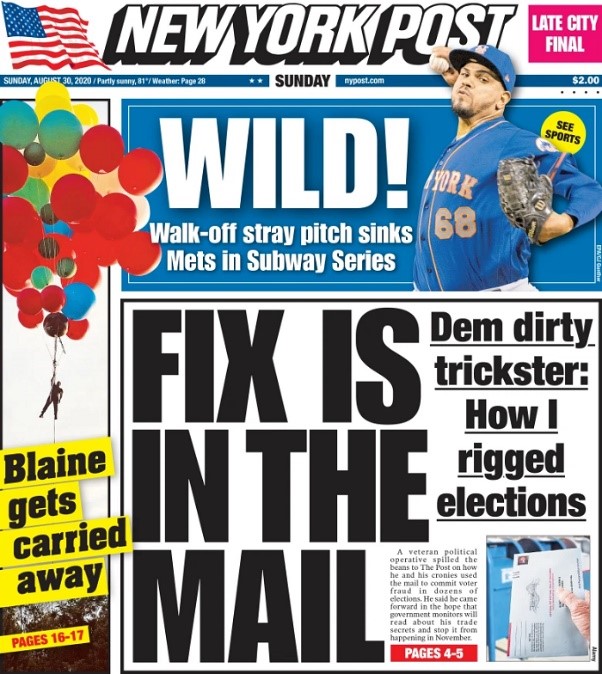 Political Insider Explains Voter Fraud with Mail-In Ballots is a must-read.
"A top Democratic operative says voter fraud, especially with mail-in ballots, is no myth. And he knows this because he's been doing it, on a grand scale, for decades."
TTPer Jeff sent me this way to explain it: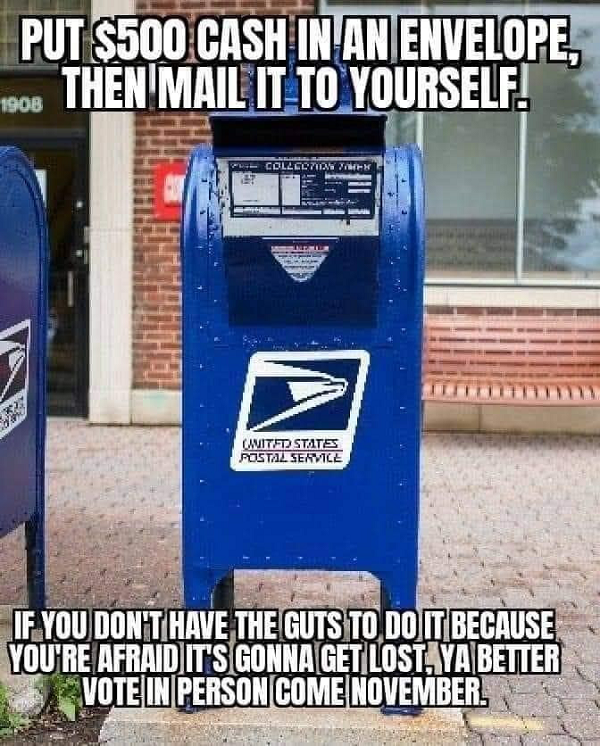 Yes, Andrea Widburg has good cause to worry in her Florida 2000 on Steroids Times 50 in 2020 in TTP yesterday (9/03).  And be sure to consider Skye's comment in the Forum in agreement with her.
Yet, yet, yet.  Okay, national approval polls – like Rasmussen's today (9/04) showing POTUS at 52% — aren't something to bet on.  But state polls by the really smart pollsters, like say Trafalgar, are another matter – which shows aces Pub John James ahead of incumbent Dem senator Gary Peters in Michigan, and Trump ahead of Biden in both Michigan and Wisconsin.
Trafalgar also shows Trump and Biden virtually dead even in Minnesota.  One reason is football.  Bob Cahaly at Trafalgar has been making a big deal out of this for a while now and he's right: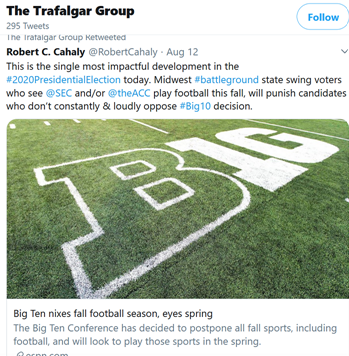 As the Milwaukee Journal-Sentinel reports on Tuesday (9/01), Trump, Big Ten football coaches and Athletic Directors push for the league to reverse its decision and return to the field soon.  That same day, POTUS tweeted:

And Basement Joe?  He's bribed two NFL Dems to blame Trump for Big Ten football cancellation.  It was too much for even the New York Times to stomach.
It's hard to overestimate the fervor for Big Ten football in key battleground states like Nebraska, Ohio, Iowa, Michigan and Minnesota.
Michigan especially due to the mass hatred for Dem Gov Wretched Gretchen Whitmer.  POTUS will win by far more than 10,700 (out of more than 4.5 million votes cast) in 2016.
And Minnesota.  Even though the only Republican in the last 60 years to win the Gopher State was Richard Nixon in 1972, the smart money is on Trump.  One key indicator: Six Mayors from the Iron Range in Minnesota, a Historically Democrat Stronghold, Endorse Donald J. Trump for President.
Don't be surprised if it's a Trump Tsunami in Big Ten states in November (okay, except impossibly corrupt Illinois).
************
It is thanks to Nebraska Cornhusker football great – and TTPer – Big Dan Thayer who tipped the HFR on this mind-blow 1993 Senate floor speech of Biden's recorded by C-Span.  It's just starting to take off with 93K views.  Let's help this go viral.  How can any black person in America vote for him once they see this?
https://www.youtube.com/watch?v=7oDHSt-CKtc
************
It's not all politics this week, though.  POTUS had substantial accomplishments this week.  The Jobs Report came in today, for example:

Happy Labor Day!
And this afternoon in the Oval Office, the President announced a major foreign policy achievement:  A peace deal between Kosovo and Serbia, coupled with both countries locating their Israel embassies to Jerusalem.
All of these countries except Albania formed Yugoslavia during the Cold War. In 2008, Kosovo – primarily populated by ethnic Albanians – declared independence, precipitating a horrific war with Serbia.  I've been all through Kosovo three times and know President Hashim Thaçi: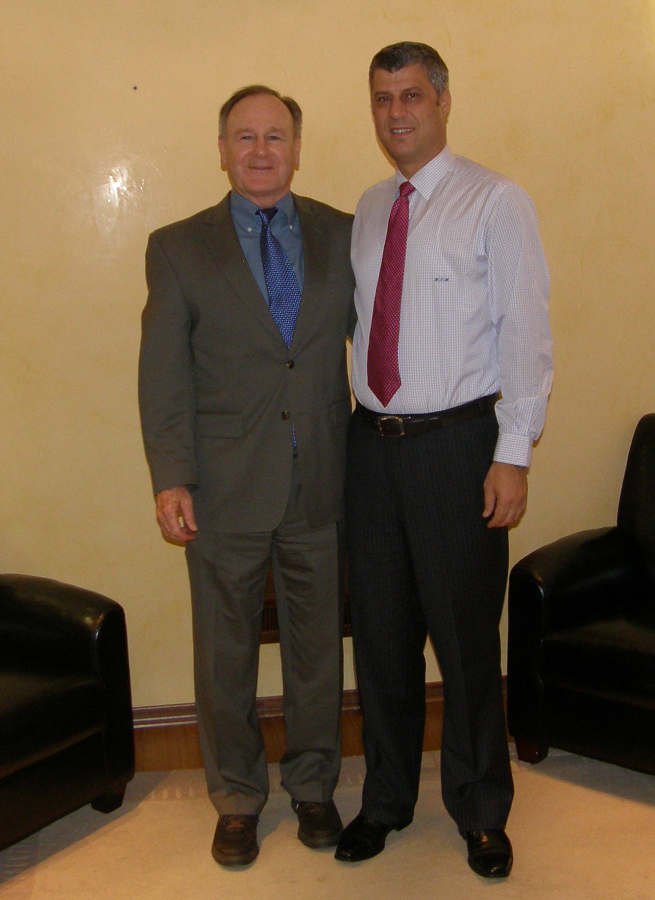 I also have criss-crossed Serbia and know former President Boris Tadić.  Both are fine men.
Trump really is an extraordinary peacemaker.  He is bringing real peace to the war-torn Balkans.
On a funny foreign policy development reported in the NY Post on Tuesday (9/01), during the June 2018 summit in Singapore between POTUS and North Korea's Kim Jong-un, Kim found White House press secretary Sarah Sanders so attractive he winked at her.
Knowing Kim was just kidding around, when told Trump kidded her back, joking, "Well, Sarah, looks like you'll have to take one for the team and move to North Korea."  Who can't love a President with a sense of humor like that?
************
I hope you will all take a look at as many of Skye's Links this week as you can.  There are lot of real gems there.  One in particular is truly eye-opening: Sandia Labs Goes Nuclear On Employee Who Sparked Internal Revolt Over Critical Race Theory.
On Tuesday (9/01), an engineer named Casey Petersen at Sandia Labs – the federal government's primary research agency designing America's nuclear weapons – emailed all 16,000 Sandia employees a video he had made denouncing the Sandia Human Resources Department's narrative of modern systemic racism and white privilege.
The link above is a must-read and the video below is a must-watch.  The story notes that the executives who have pushed the most toxic elements of critical race theory, race-segregated trainings and white male reeducation camps on their employees are James Peery, Dori Ellis, David White and Mark Sellers.
What's hilarious – although oddly never mentioned in the story – is that all these execs, indeed the entire Sandia Executive Leadership is White.  There is not one Black, Latino, or Asian among them.  Two of the Executive Leadership of 12 are women, both White.
In any regard, Casey's is the first shot in the rebellion against critical race theory in the federal government.  May it spread far and wide.  His video is over an hour and worth it – truly revelatory.
Casey Petersen is the HFR Hero of the Week.
https://www.youtube.com/watch?v=zyNW9nlFDBk
************
That's a wrap.  Have a wonderful Labor Day Weekend.  Just laugh at all the desperate Dem antics – and enjoy watching them get more laughably desperate by the day.  60 days to go to November 3.