HALF-FULL REPORT 09/03/21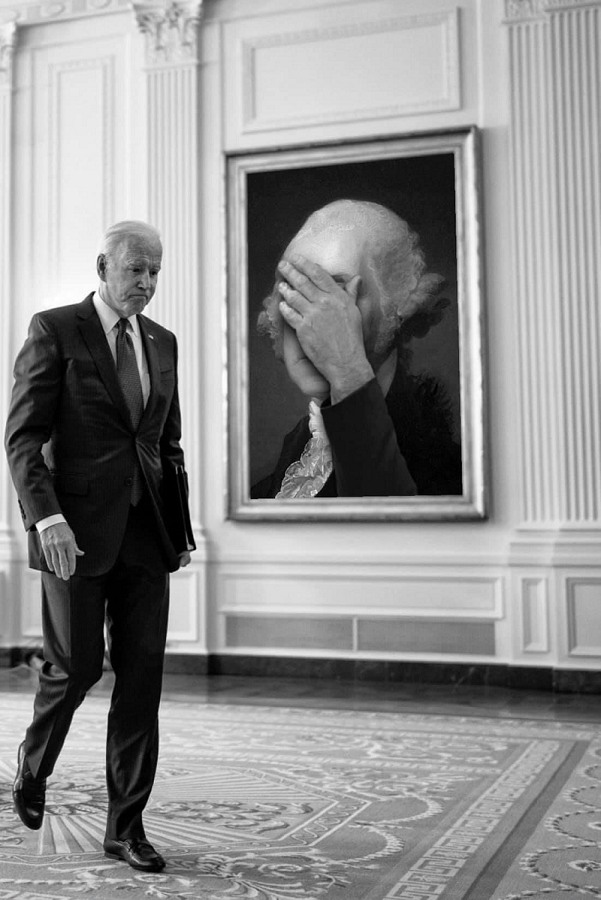 "Burn in Hell Biden."  History will recall his being named that this week.  Read why in Tuesday's (8/31) Daily Mail report – the Gold Star families' stories will break your heart:
'I hope you burn in hell! That was my brother!' What sister of Marine killed in Afghanistan screamed at Biden during Dover casket ceremony where he 'wouldn't even look' relatives in the eye
In his psychology practice, Dr. Joel Wade has counseled many couples with troubled marriages.  One clear sign, he says, of a marriage beyond repair is a level of contempt that one spouse has for the other which cannot be rectified.  This is a presidency beyond repair.
The contempt switch has been flipped on for millions of Americans regarding Xiden's deadly Afghan debacle, with contempt and disgust for him growing deeper and more widespread from now on.
Once on, it can't be switched off, because his reaction to it will make it worse.  He will continue to react with anger and double-down denial until his feeble brain goes fetal and implodes.  It won't be a pretty sight.  The nation will avert its eyes as it braces for President Heels Up.
************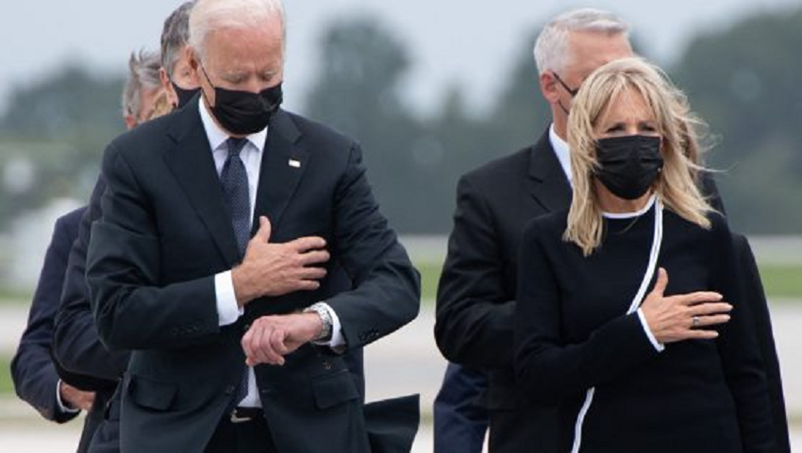 You've seen, along with everyone else in the known world, this now world-infamous photo.  It was no single quick glimpse. It happened repeatedly – one reason of many why Gold Star families vented their fury:
"'We did not want to deal with him. We did not want him anywhere near us,' Darin Hoover, said father of Staff Sgt. Darin Hoover Jr.  Hoover felt disrespected to see Biden looking at his watch. 'That happened on every single [casket] that came out of that airplane, Hoover said. 'They would release the salute, and he would look down at his watch on every one. All 13'."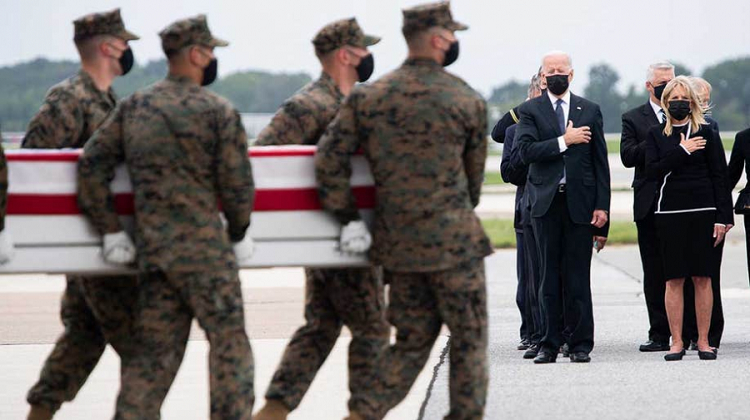 Yet growing contempt will be due to far more than contemptible manners.  It's this: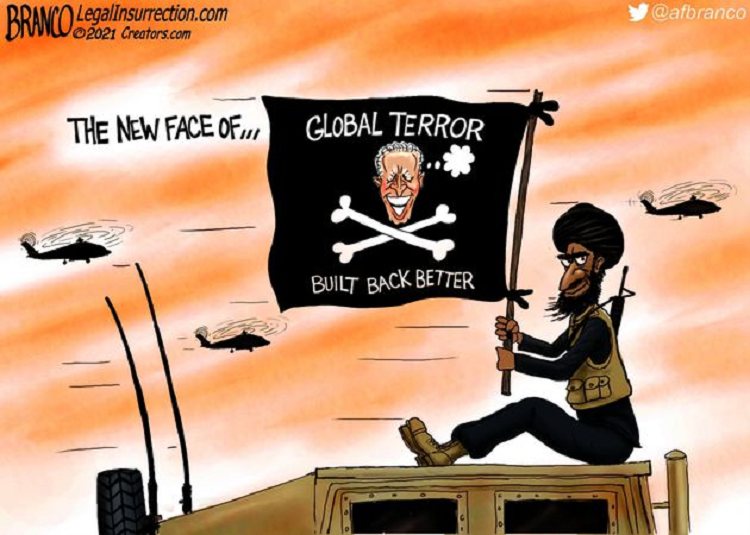 Sunday (8/29): Imran Ali Rasheed: Muslim 'inspired by a foreign terrorist organization' murders Lyft driver, opens fire at police station in Plano Texas.
This is who he killed in cold blood, a completely innocent 26 year-old lady he didn't know and didn't care, Isabella Lewis: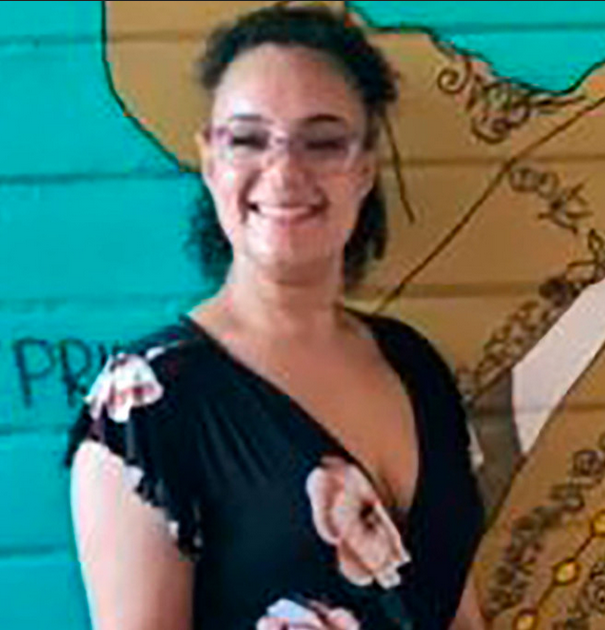 Expect a lot more of this, with Xiden dumping 50,000 (and more on the way) unvetted undocumented Afghan men of military age into the US.  Look again at Isabella.  Her blood is on Joe Biden's hands.  There will be more.  May he Burn in Hell indeed.
(Note Branco saying Global Terror, not just in the US.  Reported this morning (9/03): Six Stabbed by 'ISIS-Inspired' Migrant Terrorist in New Zealand.)
************
Already, the chorus is growing calling for him and his main accomplices to resign. Senator Blackburn (R-TN) sent this out over the weekend:

So far, 37 of her Congress colleagues have officially joined her demand:
Rep. Jim Banks (IN), Rep. Andy Biggs (AZ), Rep. Elise Stefanik (NY), Rep. Claudia Tenney (NY), Rep. Jeff Van Drew (NJ), Rep. Marjorie Taylor Greene (GA), Rep. Lance Gooden (TX), Rep. Byron Donalds (FL), Rep. Ronny Jackson (TX), Rep. Greg Steube (FL), Rep. Mike Garcia (CA), Rep. Jody Hice (GA), Rep. Vicky Hartzler (MO), Rep. Brian Mast (FL), Rep. Debbie Lesko (AZ), Rep. Clay Higgins (LA), Rep. Jerry Carl (AL), Rep. John Rutherford (FL), Rep. Madison Cawthorn (NC), Rep. Yvette Herrell (NM), Rep. Kat Cammack (FL), Rep. Tom Rice (SC), Rep. Lauren Boebert (CO), Rep. Mike Waltz (FL), Rep. Guy Reschenthaler (PA), Rep. Mark Green (TN), Rep. Lee Zeldin (NY), Rep. Warren Davidson (TN), Rep. Kevin Hern (OK), Rep. Barry Loudermilk (GA), Rep. Roger Williams (TX), Rep. Jackie Walorski (ID), Rep. Mo Brooks (AL), Sen. Marsha Blackburn (TN), Sen. Roger Marshall (KS), Sen. Josh Hawley (MO), Rep. Jackie Walorski (ID), and Rep. Mo Brooks (AL).
The number will grow because voters have their back.  On Wednesday (9/01), Rasmussen reported: 52% of Voters Think Biden Should Resign Over Afghanistan Withdrawal.
************
Realize, all this is just getting started.  Remember that revenge is a dish best served cold.  What happens when voters put their amygdalas on ice and focus on the big time serious questions being asked by Shari Goodman at AT today (9/03):
"Why would our military commanders willingly give up Bagram, a strategic airport built by the Russians, and why would they willingly leave $85 billion in military hardware behind? 

 

Why would they leave thousands of Americans stranded behind enemy lines while providing the Taliban a

kill list' of those Americans left behind?  Unlike previous withdrawals, where it is customary upon withdrawal to first evacuate our citizens, and then destroy the equipment and blow up the bases, we did the opposite.  We did not evacuate our citizens.  We did not destroy the equipment.  And we did not blow up the bases. Why?"
What happens when they realize her answer hits the bullseye:  America's Commander-in-Chief is being blackmailed by Red China.  Shari's is a real must-read – consider copying the link and send it on to all you know.
That alone will get Burn in Hell Biden tarred, feathered, and run out of the White House on a rail…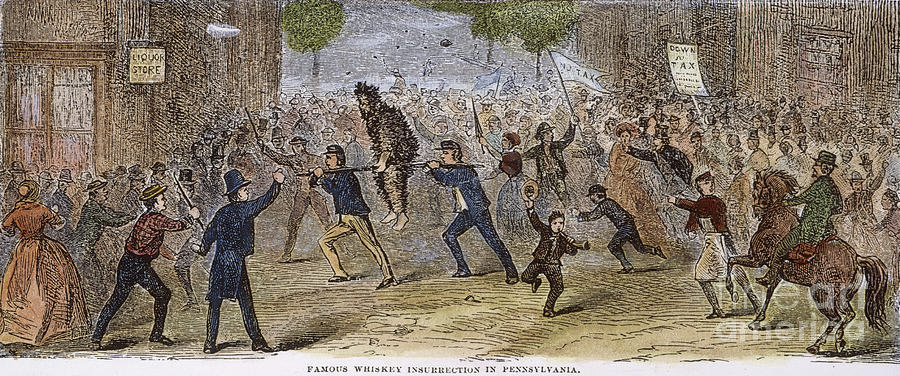 But wait, there's more!
************
Today (9/03): Biden's Job Report Misses Expectations By Astonishing Amount, One of Worst Job Reports in History  At the start of Labor Day Weekend no less.
But yesterday's (9/02) news was worse: Productivity Growth Revised Down as Bidenflation Devoured Compensation Gains
"The Bureau of Labor Statistics on Thursday released its second estimate of labor costs and productivity. It was a pretty miserable set of data. Nonfarm labor productivity was revised down from a 2.3 percent annualized rate of growth to 2.1 percent. That's a pretty steep fall off from the 4.3 percent growth in the first quarter of the year.

 

Labor costs were up, with hourly compensation being revised up to a 3.4 percent growth rate from a 3.3 percent initial estimate. That sounds like good news for workers until you glance over at the column called "real hourly compensation." There we learn that after adjusting for inflation, real hourly compensation fell at a 4.6 percent rate, much worse than the 2.6 percent initially estimated."
Actually, it's much much worse.  An economist TTPer explains:
"Since the official inflation figure understates consumer price increases by several percent, the real drop in hourly wages is more like 10%+ over the past year, which is catastrophic for most middle class people.  The media are full of the Afghanistan rout, while the supermarket checkout lines are full of increasingly desperate people."
This afternoon (9/03), ZeroHedge warned: Entering Stagflationary Hell: BofA Warns Only The Biggest Ever Bubble Is Delaying A Catastrophic Recession.  The full story is behind a paywall, but the title says it all.
By the time Burn in Hell is out and Heels Up is sworn in, Bidenflation will quickly be relabeled Kamalaflation.  As an idiot Marxist, she'll keep digging the Hole of Economic Ruination ever deeper.
************
Will there be any way to dig ourselves out of this any time soon? Sure.  Make sure your state legislature enacts POTUS' sage election advice yesterday (9/02):  Exclusive — Donald Trump: All U.S. States Should Go to Paper Ballots, Same-Day in-Person Voting, Voter ID.  Add that Voter ID includes proof of US citizenship (a requirement of federal law) and we can have honest elections next year.
The ideal, as we talked about before, is for POTUS to be elected in a new Florida district in '22, then elected House Speaker, the resurrection of America can begin, and POTUS is back where he belongs behind the Resolute Desk in January '25.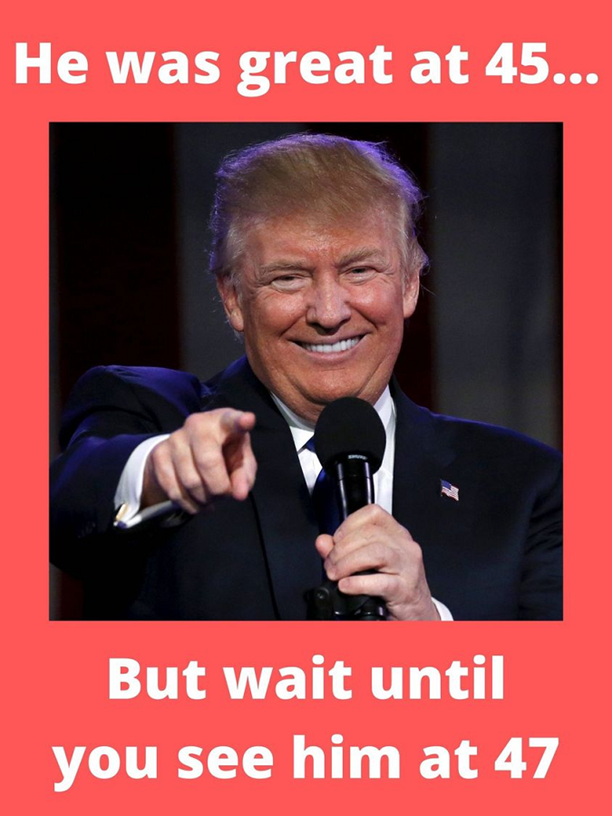 ************
Meanwhile, let's enjoy some good and fun news of the week.
The Laugh of the Week is Ann "Over the Hill and Round the Bend" Coulter losing her Never Trumper mind, going full wacko Effusively Praising Biden's Speech and Afghan Withdrawal. As one wag puts it:  "A has-been grasping at straws in a futile effort to reclaim relevance."  Goodnight, Ann.
The HFR State Hero of the Week, hands-down, is Texas.
*(8/31) Fleebaggers Lose! Texas Legislature Passes Election Integrity Legislation.
*(9/01) Texas Law Banning Most Abortions Takes Effect
*(9/02) Supreme Court Refuses To Block Texas Heartbeat Law Which Virtually Bans Killing Babies
*(9/02) New Texas Law Requires Pro Teams In The State To Repay Money If They Don't Play The National Anthem
Wow.  Hook 'em Horns, Go Aggies!  And finally, a moment we've been waiting for, when Gorsuch, Kavanaugh, and ABC join Thomas and Alito in a total Pro-Life majority SCOTUS vote, leaving Roberts and the other three Libs biting the dust.
CNN reports:
"After [the SCOTUS decision] took effect early Wednesday morning (9/01), clinics across Texas drastically limited their services. Whole Woman's Health, which operates four clinics in Texas, said it is offering abortion services 'only if no embryonic or fetal cardiac activity is detected in the sonogram,' according to a spokesperson, and several other providers also are taking that limited approach."
The entire Moonbat Woke Left is in a state of complete apoplexy over this.  China Zhou is promising a "whole-of-government fight" over it.  Sorry, losers.  LIfe has won this time.
Now for the HFR Hero of the Week – She's Angie Ugarte, owner of the DeBary Diner in DeBary, Florida (halfway between Orlando and Datona Beach).  Here's why:
https://www.youtube.com/watch?v=eEv7BoqaM6g
Angie's now national news. Reports the NY Post: Florida Diner Owner Posts Sign Telling Biden Backers To Eat Elsewhere.  Thank you, Angie – you are an inspiration to every American patriot!
************
Here's the close.  As bad as things are for our country, they are worse for the Democrats, the Deep State, the Woketard Left.  Things have to get worse before they get better, and they will lead to Dem-Left Doom and get better for us patriots.  Just get out of a blue state if you still live in one, get to a solid red state, or at least a solid red county.
And – have a fun Labor Day Weekend.  Blue skies, TTPers!!