FLASHBACK FRIDAY: HAJJAR QIM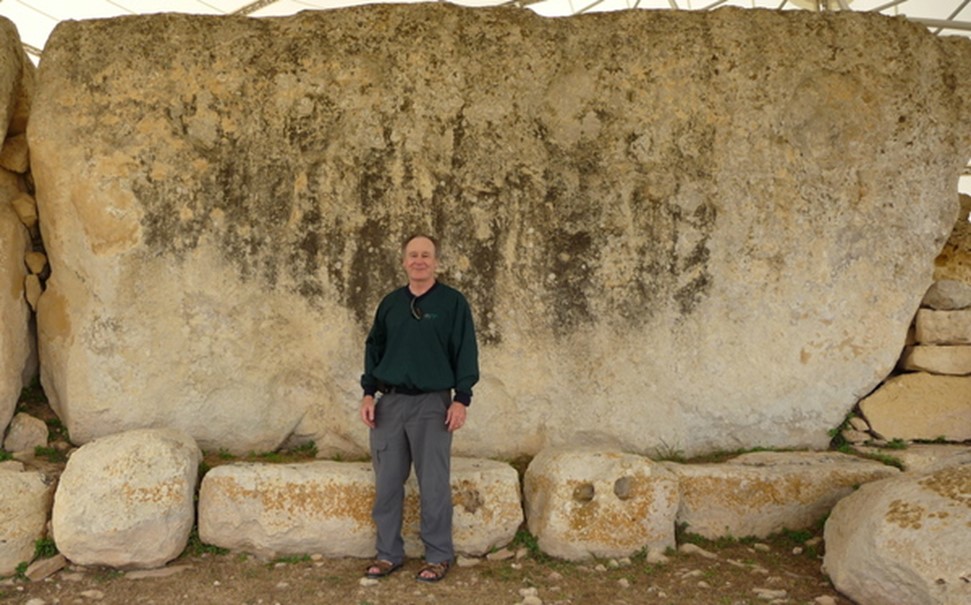 The megalithic temple of Hajjar Qim (hah-jar seem) on the island of Malta in the center of the Mediterranean, was built a thousand years before the pyramids in Egypt.  The Stone Age people there made their temples of enormous stones weighing several tons cut from the limestone bedrock with tools of stone and antler horn for they had no metal, and moved them using small round-cut rocks as ball bearings for they had no wheels.
The massive stone I'm in front of weighs over 20 tons.   These folks figured out all by themselves how to build these extraordinary temples to their gods and goddesses close to six thousand years ago.  Nobody taught them.  They were the first.
These ancient temples are only one of the so many things that entrance the visitor to Malta.  Medieval walled cities, sea caves of day-glo blue water, sunset dining in fabulous restaurants with great food, great beer, and great wine, luxury hotels made from palaces or palazzos – all at reasonable cost.
90% of Maltese are devoutly Christian, having been so since converted by St. Paul himself in 60 AD. They are warm and welcoming, eager to have you join in the fun of their village festivals.  I had such a wonderful time with them when I was first here in 2009 (when the photo you see was taken).  I've been back twice now and can't wait to be there again.  So much so I'll be leading an exploration of Malta over next Memorial Day (May 25-June 2).  Let me know on the Forum if you'd like to join me. (Glimpses of Our Breathtaking World #241 photo ©Jack Wheeler)