DARKNESS AT NOON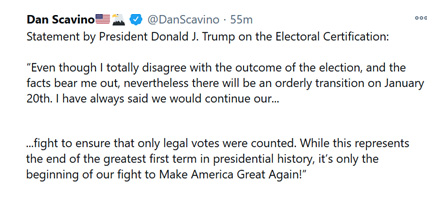 The President of the United States had to issue this statement through his White House spokesman because he has been suspended by Twitter, Facebook, and Instagram.  Note that he did not concede – and never will.
For at 3:30am this morning (1/07), in one of the most despicable acts of cowardice in American history, Mike Pence certified the fraudulent non-election of an agent of Communist China to be the next president.  It is Darkness at Noon.
Darkness at Noon is Arthur Koestler's classic portrayal of the horror of Communism and all forms of fascistic tyranny dedicated to snuffing out any vestige of individual freedom and dignity.  Just such a darkness has now descended upon America.
Shortly after Traitor Pence's capitulation, TTPer John Barrett posted this on the Forum:
"To The Point will be more important than ever because truth will be hard to find. Just gave subscriptions to both of my adult children. I was driving home from the farm tonight thinking how bad it is, and it is bad, but started watching a documentary on the Battle of Britain and told myself we must fight on. No choice."
Thank you for this vote of confidence, John.  I will do my best to live up to it.  This dark day is a day for mourning, the culmination of evil darkness that has been steadily descending upon our beloved country for a year now.
Then tomorrow – starting at TTP with the HFR – we must begin anew.  As you say, we must fight on for we have no choice.  Let us mourn today.  Tomorrow we gird our loins for battle.