CLIMBING JACOB'S LADDER ON THE ISLAND OF SAINTS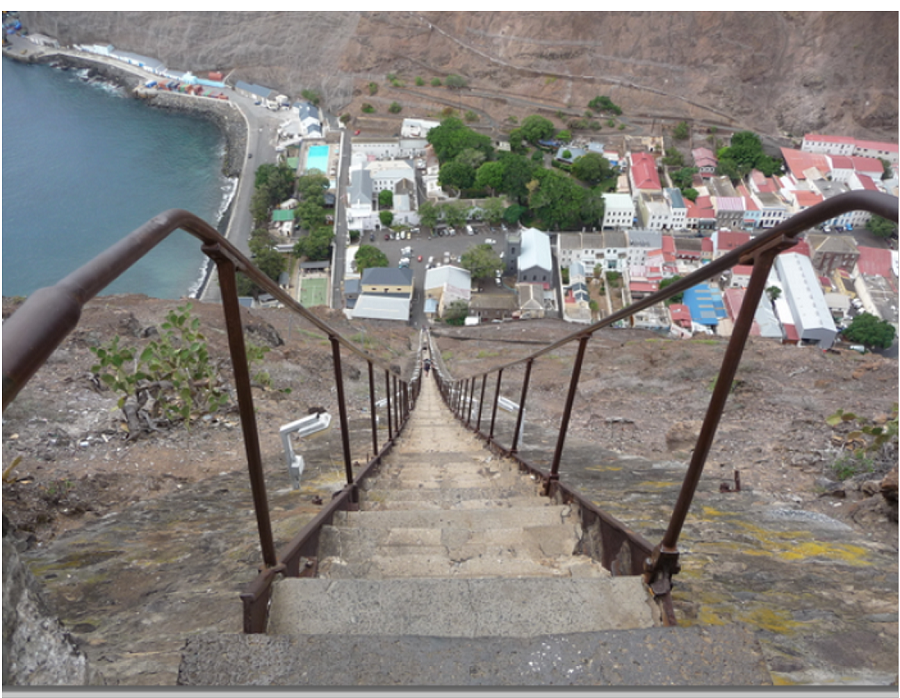 Jamestown on Saint Helena in the South Atlantic is two blocks wide and a mile long in a narrow deep ravine. One of the world's longest straight staircases, Jacob's Ladder, was an original way to get out – 699 steps each 11 inches high – and it's a workout.
People who live here call themselves "Saints" and pronounce their island "sent-uhl-LEEN-ah." It's famous of course for where the Brits exiled Napoleon after Waterloo. His residence and gardens on a high promontory, Longwood House, is preserved with original furnishings and his death bed. Dying in 1821, he was buried in a beautiful peaceful glen nearby (in 1840 he was reinterred at Les Invalides in Paris).
After climbing the Ladder and visiting Longwood, you'd want to refresh yourself at one of Jamestown's pubs, where local Saints will be happy to hoist a pint with you. And don't pass up a visit to the Saint Helena Distillery, the world's remotest distillery, to learn how Head Distiller Paul Hickling makes his memorable Prickly Pear Whiskey, White Lion Spiced Rum, and Jamestown Gin – all in unique stepping stone bottles in honor of Jacob's Ladder. (Glimpses of Our Breathtaking World #46 Photo ©Jack Wheeler)