A VIEW OF MOUNT EVEREST YOU HAVE NEVER SEEN BEFORE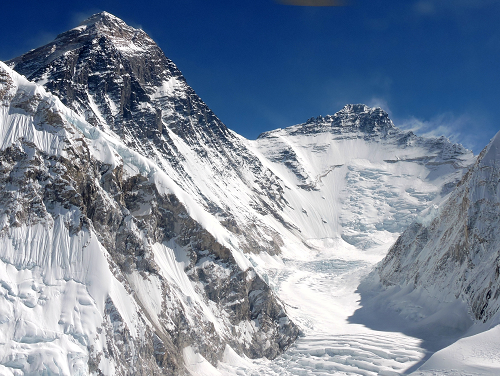 Photo taken at an altitude of 22,000 feet (6,700 meters) in a AS 350 B3 ultra-high altitude Eurocopter on our Himalaya Helicopter Expedition. We are looking into the Western Cwm (valley), West Shoulder of Everest in the left forefront, entire Southwest Face of Everest summit (29,029 ft-8,848m) to base on the left, Lhotse (4th highest on earth at 27,949ft-8,516m) straight ahead, the flank of Nuptse on the right.
The climbing route is from Base Camp to Camp I past the top of the Khumbu Ice Fall (bottom of photo), up the Cwm to Camp II at the foot of the Lhotse wall, scale via fixed ropes to Camp III perched on the wall, then up to the notch between Everest and Lhotse (on the horizon in the photo) that is the South Col and Camp IV. The summit is reached from there via the Southeast Ridge on the other side of the photo.
We'll be here again in late April-early May next year. (Glimpses of Our Breathtaking World #91 Photo ©Jack Wheeler)