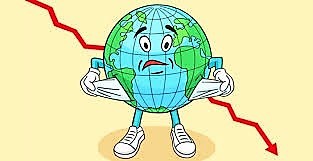 "Mankind is doomed!" Headline writers have been writing that headline since the invention of printing — and someday it may come about.
For about four decades, that headline has most often been applied to the threat of global warming. Every couple of years, some notable comes out with a pronouncement that the governments of the world only have 5 or 10 years to make fundamental changes or we are all toast. The deadlines come and go, without action, and most people carry on with life as they always have.
Today, a number of Democrat politicians are telling us we have only 12 years to get rid of airplanes, farting cows and other hazards. Al Gore, of course, endorsed the policy proposals. Let's thank them for sharing.
Meanwhile, there is a real crisis that is much more likely to adversely affect most people's lives much sooner and with greater consequences than climate change, and that is the rise in government debt as a percentage of GDP in many of the major countries.