HALF-FULL REPORT 07/12/19
by Jack Kelly | July 12, 2019 10:20 pm
(Purported) billionaire and (confirmed) pedophile Jeffrey Epstein was arrested in New York City Saturday (7/6).
He "created a vast network of underage victims for him to sexually exploit in locations including New York and Palm Beach," the indictment unsealed Monday (7/8) alleges.
The indictment is a placeholder, to keep him in jail while a more comprehensive superseding indictment is prepared.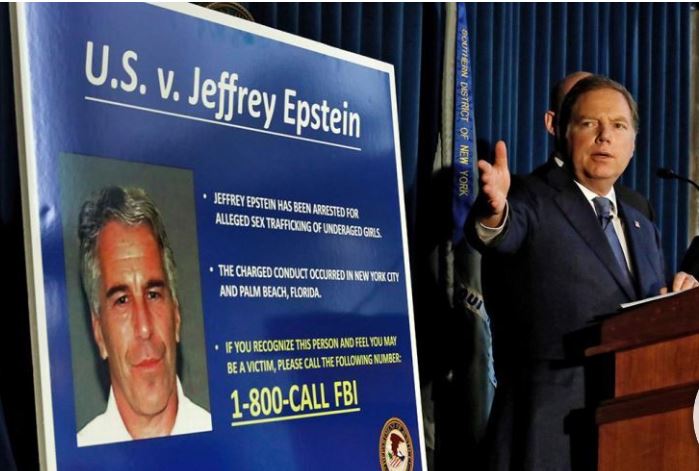 The feds nabbed Epstein at Teterboro airport as he was returning from several weeks in France. He has six homes, three passports. If you look up "flight risk" in the dictionary, you'll see his picture.
More than a dozen alleged victims have come forward since the announcement of his arrest.
Only Epstein is charged in this indictment, but it mentions three (female) employees who recruited underage girls for him.
The Public Corruption Unit of the U.S. Attorney's office is handling the Epstein case, which suggests these women won't be the only others charged.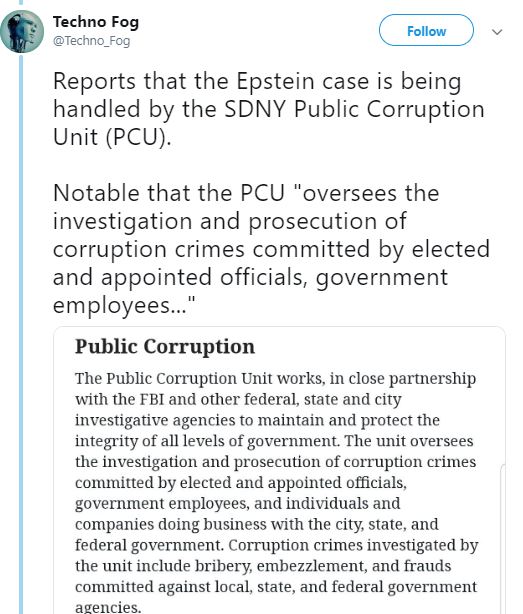 * * * *
Politicians, business tycoons and celebrities here and abroad have been guests on Epstein's (in)famous "Lolita Express," and at Epstein's private island in the Caribbean, and at his homes in New York, Florida and New Mexico.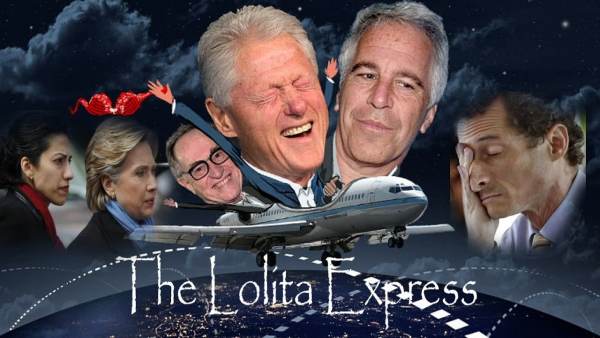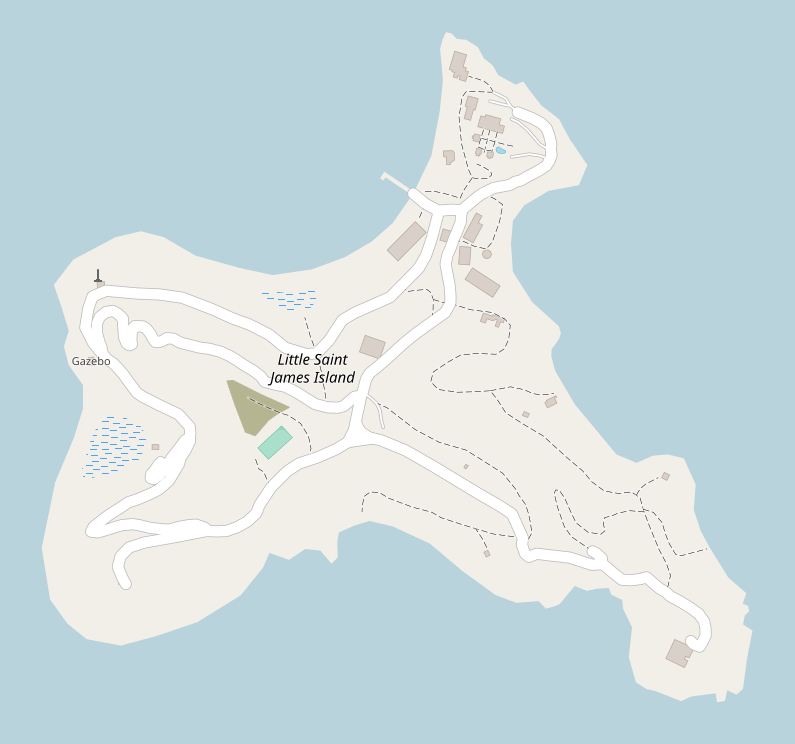 The doings at Little St. James in the Virgin Islands may have involved more than sex with underage girls.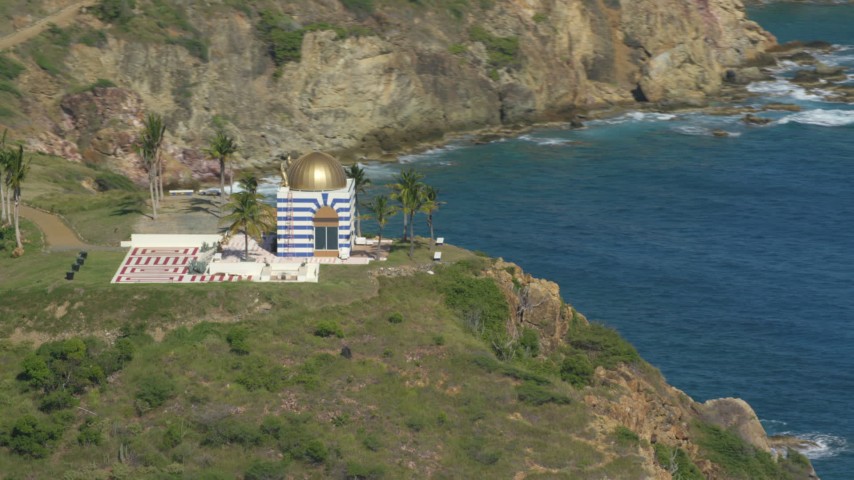 Epstein was arrested in 2007 on charges of child trafficking, but got an unbelievably sweet deal from the Justice Department. For stomach-churning details, read this thread by Techno Fog.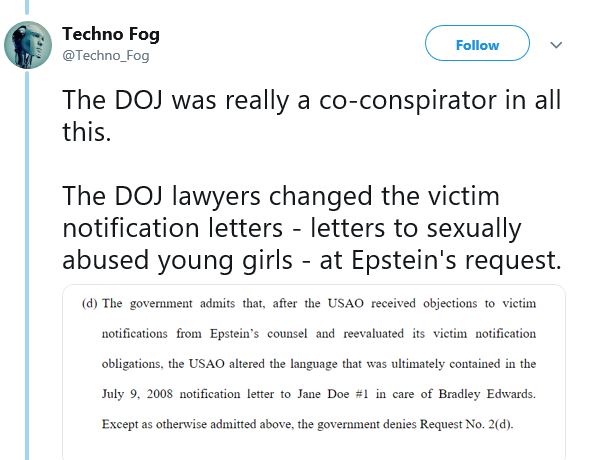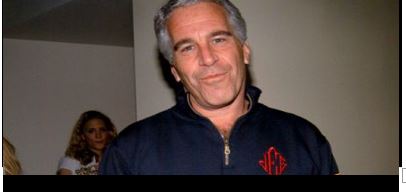 The super-sweetness of the deal suggests corruption at the highest levels of government, or that CIA or FBI were blackmailing foreign government officials who partied with Epstein.
* * * *
Leftists trying to link the president to Epstein rely on the lamest sort of guilt by association.
Trump and Epstein moved in the same social circles. The photos of them together were taken at parties attended by many others, before Epstein was outed as a pedophile.
Trump once flew on a private jet (not the Lolita Express) from Florida to New York with Epstein and his brother, years before Jeffrey was exposed.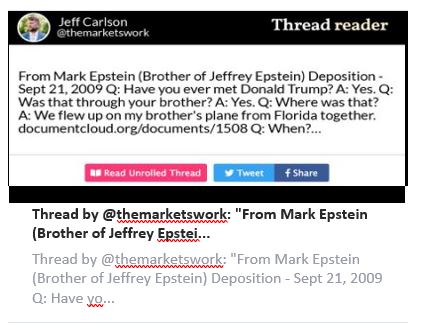 Trump was never a guest at Little St. James. After he learned Epstein had sex with the 14-year-old daughter of an employee, Trump barred him from Mar a Lago, cut off contact with him. Trump testified against Epstein in a civil suit in 2009.)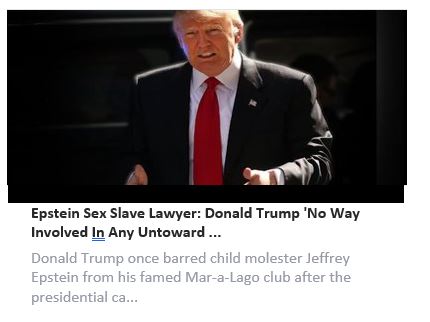 Fusion GPS tried to make a bogus connection between Trump and Epstein in 2017, but struck out.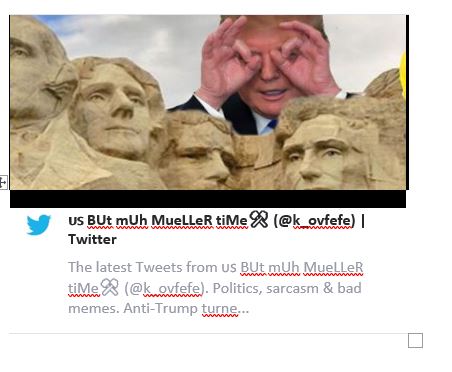 READ TWEETS HERE
* * * *
Democrats demanded the resignation of Labor Secretary Alex Acosta, who in 2007 was the U.S. Attorney for the Southern District of Florida.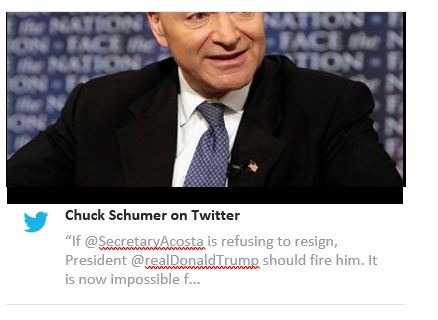 He'll step down next week, Acosta said today (5/12).
The decision to make the obscenely generous plea deal wasn't Acosta's alone; may not have been his idea at all.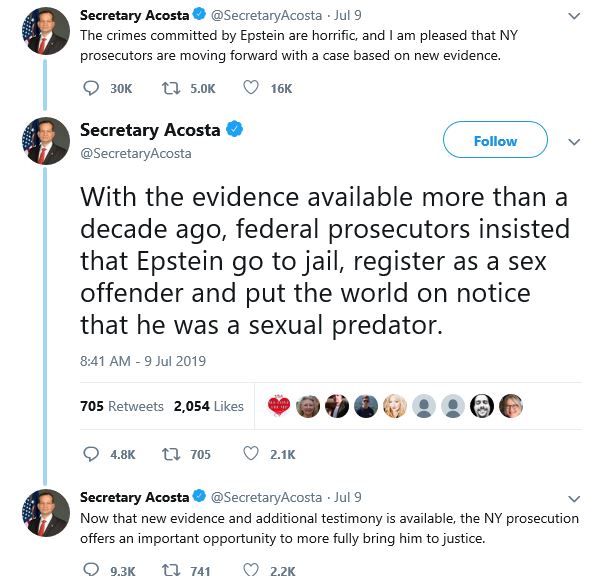 According to this story, Acosta was told Epstein "belonged to intelligence, and to leave it alone." The answer Acosta gave at this news conference Wednesday (7/10) indicates this is so.
His office took over after the state's attorney for Palm Beach County (a Democrat) offered Epstein a deal that involved no jail time, didn't require him to register as a sex offender, Acosta said.
* * * *
Leftist smears are aggravating, but I bet the president secretly is pleased with them, because both left and right now pay close attention to the Epstein case.
The Lying Swine will have to report on developments as they unfold. Fact-free innuendo will be overcome by mountains of evidence.
Trump's modus operandi is to bait Democrats into overreaching, then to pull the rug out from under them. It's amazing they haven't figured this out yet.
Moonbats certain Special Counsel Robert Mueller would nail the evil Drumpf now are convinced Epstein will. Their inevitable disappointment will be epic.
As FBI and DOJ dig deeper, the president has nothing to fear. Others do.
We'll find out why Manhattan District Attorney Cyrus Vance Jr. sought to lower Epstein's sex offender status.
When Hillary was in charge, the State Department swept sex scandals under the rug.
"Some of our faves" are implicated, Nancy Pelosi's daughter warned moonbats.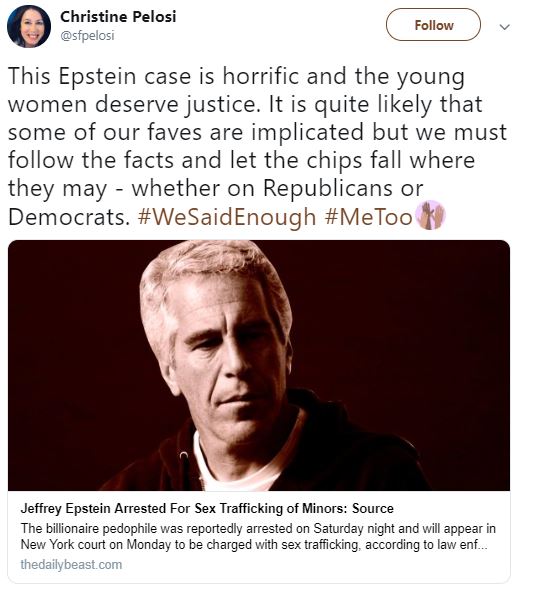 Two "faves" are known. Bill Clinton flew on the Lolita Express 27 times, Hillary six times, flight logs indicate. On most of Bill's flights, underage girls were on the plane.
Here's a photo of Bill on one of those flights, with Rachel Sanders, then age 15.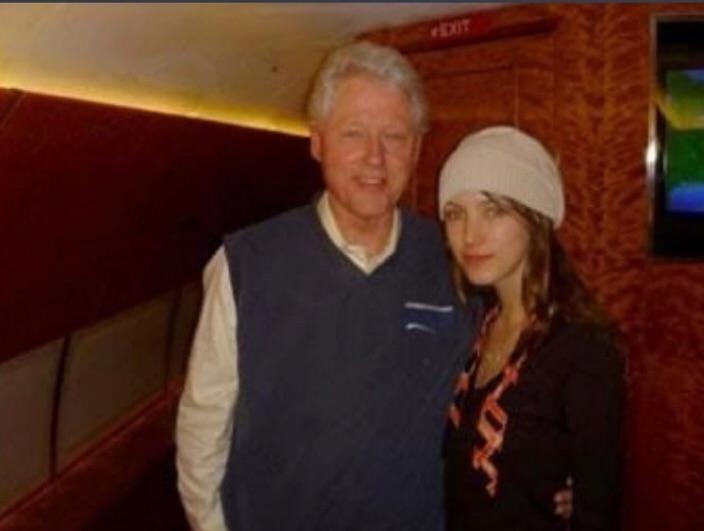 I bet other Pelosi "faves" soiled their underwear when they learned about the CD roms the feds seized from a safe in Epstein's Manhattan mansion, wondered who he may rat out to get a lighter sentence.
Epstein may have blackmailed hundreds of prominent people, the labels on the CD roms suggest. It isn't clear how much money Epstein has, or how he made it. His principal source of income may have been blackmail.
Asset forfeiture laws apply to sex traffickers, so Epstein will be broke soon.
There are more than 1,000 names in Epstein's little black book. The FBI acquired it in 2009 from Epstein's butler. Robbin Young is tweeting out all the names.
"Find out who went to (Epstein's) island," President Trump said today (5/12). We will… and Democrats will be royally screwed.
* * * *
He barely knew this Epstein fellow, Bill Clinton said in a statement Monday (7/8). This is completely contradicted by what's already in the public record. By lying so blatantly, Bill calls attention to that record, reminds people his word is worthless.
Epstein was a major contributor to Hillary's campaigns, and to the Clinton Foundation, which he said he helped found. Epstein was a co-founder of the (now defunct) Clinton Global Initiative.
In addition to Bill and Hill, Epstein contributed more than $100,000 to a Who's Who of prominent Dems.
Many of his guests at Orgy Island are big Democrat donors. Methinks much of what they would have contributed in this election cycle will be spent on legal fees instead.
* * * *
FWIW, Epstein's arrest is the strongest "proof" yet the mysterious Q is who he implies he is (a current or former senior military intelligence officer who is close to the president), as even New York magazine (sorta kinda) acknowledges.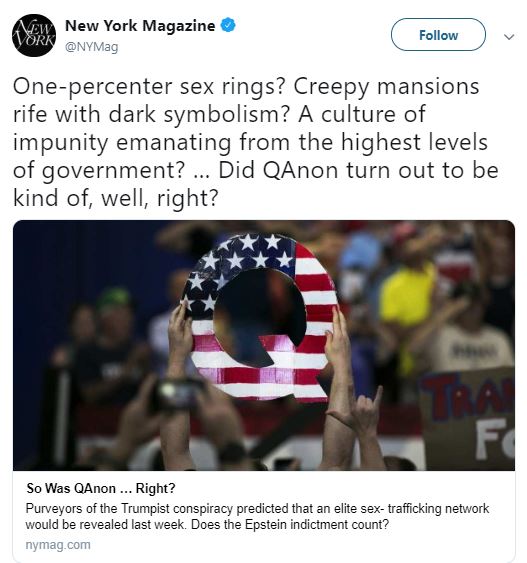 Here are Q's previous posts about Epstein.
Coincidentally (or not), Q – who'd been silent for some while – has posted furiously since Epstein's arrest.
Almost as soon as he walked in the door, Attorney General Jeff Sessions ordered the re-investigation of Epstein, Q said. "Expect a lot more to become public."
* * * *
President Trump may not block Twitter users from his official account, the U.S. Court of Appeals for the 2nd Circuit ruled Tuesday (7/9).
Leftists applauded… until they realized the Court's reasoning applies to Members of Congress – such as AOC – too.
President Trump may go forward with defunding Planned Parenthood while PP's lawsuit against his new rules is adjudicated, the 9th Circuit Court of Appeals said Thursday (7/11). This made PP very unhappy.
The partisan makeup of the panel (7 GOP, 4 Dem appointees) suggests Planned Parenthood won't be any happier with the final judgment.
* * * *
Because of time constraints, he won't include a citizenship question on the census, President Trump said Thursday, (5/11). He issued this executive order to determine the number of citizens and non-citizens another way.
That other way will provide a more accurate count of citizens and non-citizens, I noted in this column, and results will be available before the 2020 elections.
If Trump's Plan B is better than his Plan A, could Plan B have been Plan A all along?
* * * *
President Trump held a Social Media Summit Thursday (7/11) featuring conservatives who've been censored and shadow banned on Facebook, Twitter, Instagram, YouTube, etc. Here's a video the White House prepared on it:
Big tech big shots lied to him about censorship, the president said. His administration will explore "all regulatory and legislative measures to protect free speech."
Trump said he'll invite the heads of social media companies to come to the White House to talk about censorship. They'd better come, he added.
* * * *
Release of DOJ Inspector General Michael Horowitz's report on FISA abuse was delayed because at the last minute Christopher Steele of the (in)famous dossier agreed to be interviewed.
Evidently Steele changed his mind about testifying because he feared others implicated in Spygate would make him the fall guy.
In a story Tuesday (7/9) intended to soften the blow of bad news by spinning it in advance, the New York Times said the report could be made public in "weeks."
Shem Horne dissects the Times story here.
Release a little later might be better.
Many on the center-left may be inclined to make excuses for those who broke the law to spy on the evil Drumpf.
But Americans are repulsed by pedophiles. If Dem pols and factotums implicated in Spygate have been linked to Epstein, the Lolita Express, Orgy Island, not many will defend them.
Did a very stable genius plan this sequence?
* * * *
Democrats are trying to create a "public spectacle" by having Bob Mueller testify, Attorney General William Barr told the AP Monday (7/8).
If Mueller doesn't want to "subject himself" to that, the Justice Department will back him up, Barr said.
Mueller won't want to answer questions about this rebuke of his report by a federal judge. One of the Mueller report's two claims of Russian government interference is bogus, Judge Dabney Friedrich said.
Mueller's testimony has been postponed for at least a week.
* * * *
In a stunning about face, prosecutors delisted Michael Flynn as a witness in the trial of a former business partner for allegedly violating the Foreign Agents Registration Act, and changed his status to "unindicted co-conspirator."
The change was made because Flynn wouldn't say on the witness stand the FARA Flynn Intel Group FARA filing contained knowingly false statements, his lawyer said.
Flynn was under "extreme and unprecedented pressure" to sign it from David Laufman, then the chief of the National Security Division (one of the ickiest of Swamp Things in DOJ at the time), Sidney Powell said in her brief.
Judge Anthony Trenga rejected the prosecutors' motion to change Flynn's status because they've presented insufficient evidence of a conspiracy.
"Notably absent" from the DOJ's proffer is "any evidence… that Flynn… has admitted he made certain false statements in the FARA filing," Judge Trenga said.
* * * *
The Dow broke 27,000 Thursday (7/11), an all time high, after Federal Reserve Board Chairman Jerome Powell said the Fed may cut interest rates.
What's most impressive about the Trump economy is that strong growth was  achieved while the Fed was raising rates.
* * * *
Evidently Felix Sater's testimony to the House Intelligence Committee Tuesday (7/9) didn't go the way Adam Schiff hoped.
"CNN's Manu Raju can't change the subject quickly enough when Felix Sater says (Fusion GPS honcho) Glenn Simpson committed perjury," said Chuck Ross of the Daily Caller.
* * * *
Rep. Eric Swalwell became the first Dem to drop out of the presidential race. But the size of the herd remained the same, because the next day ultra-left billionaire Tom Steyer joined the race. He plans to spend $100 million on his campaign.
"What does it say about the Democrat field that arguably their largest contributor is joining the race himself?" asked Donald Trump Jr.
Other Dem presidential candidates continued to make asses of themselves.
*He'll cut the prison population by more than 50 percent, Slow Joe Biden promised.
*She'll end Israel's "occupation" of the West Bank and Gaza, Fauxcahontas Warren pledged.
*He'll make sure female soccer players are paid as much as male soccer players, said New York City Mayor Bill de Blasio, who evidently thinks the president sets the salaries of professional athletes.
His party has moved too far left, said Black Entertainment Television founder Robert Johnson, a lifelong Democrat. I'll say.
* * * *
In their escalating public feud, Rep. Alexandria Occasional-Cortex implied Wednesday (7/10) that House Speaker Nancy Pelosi is racist.
* * * *
To promote a hearing today (7/12) on alleged "inhumane" treatment of illegal immigrants, House Democrats tweeted out a photo of children in cages.
It was taken in 2014. When Republicans pointed this out, Dems took it down, replaced it with another photo of children in cages.
Which also is from 2014. Evidently Dems can't find a photo taken during the Trump administration that shows illegal immigrant children being mistreated.
* * * *
This was, arguably, the worst week for Democrats since President Trump was elected. But it could be the best week they'll have between now and the 2020 election.
The indictment of Jeffrey Epstein is a watershed. From now on, the only news Democrats get that isn't bad news will be very bad news.
The glass this week is filled to overflowing. I'll be back next week, with what I expect will be even better news… and a bigger glass.
Jack Kelly is a former Marine and Green Beret, and was the Deputy Assistant Secretary of the Air Force during the Reagan Administration.  Until his retirement in January 2017, he was the national security writer for the Pittsburgh Post-Gazette.
Source URL: http://www.2thepointnews.com/2019/07/half-full-report-071219/
---